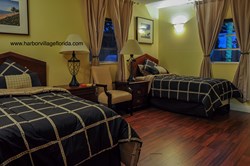 "Prescription drug abuse can lead to heroin and other addictive drugs. At Harbor Village, we provide each client with a personalized program that allows them to recover," said Robert Nizn
Miami, Florida (PRWEB) August 29, 2013
According to HealthDay News, Abuse of Painkillers Raises Risk of Heroin Use, those that abuse prescription painkillers are far more likely to fall victim to a heroin addiction.
Heroin abuse is just one of the addictions treated at Harbor Village, a 24/7 professionally supervised detox center. At Harbor Village, each client can stay and experience private drug treatment in a luxury, state-of-the art environment. Located in South Florida, the facility welcomes clients with upscale accommodations including a beautifully furnished suite with television and headphones, 30,000 square feet of outdoor lounge area, spa, salon, massage and acupuncture services, nutritious, gourmet dining and an individualized plan that is designed for each client's specific needs.
In the article titled Abuse of Painkillers Raises Risk Of Heroin Use, report stated that those 12 to 49 who had used prescription pain killers illegally were 19 times more likely to have begin taking heroin within the past year than other people in that age group.
The U.S. Substance Abuse and Mental Health Services Administration report found that nearly 80% of those using heroin had been taking prescription drugs illegally.
"Prescription pain relievers, when used properly for their intended purpose, can be of enormous benefit to patients, but their non-medical use can lead to addiction, serious physical harm and even death," said Dr. Peter Delany, director of SAMHSA's Center for Behavioral Health Statistics and Quality.
"This report shows that it can also greatly increase an individual's risk of turning to heroin use -- thus adding a new dimension of potential harm," Delany said.
"Prescription drug abuse can lead to heroin and other addictive drugs. At Harbor Village, we recognize how destructive this dependency can be on drug abusers and provide each client with a personalized program that allows them to recover," said Robert Niznik, Harbor Village CEO.
For more information, visit http://harborvillageflorida.com/ or call the 24/7 hotline 1-855-338-6900.
Media Contact: 
Robert Niznik 
Harbor Village 
Miami, FL 
305-999-5728 
robert(at)harborvillageflorida(dot)com