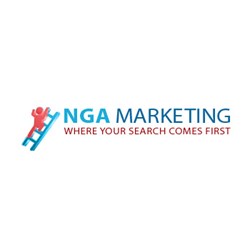 NGA Marketing - Where Your Search Comes First
(PRWEB) August 27, 2013
As more Americans go online, businesses today are adapting and improving their online presence and reevaluating their current internet marketing strategies.
According to a *report published recently on Yahoo News, data shows that more Americans spend most of their time online, not merely for fun and leisure, but statistics also shows that consumers are spending a huge bulk of their time on the internet searching for products and services they want and need.
Popular website WebProNews.com **reports similar figures. They say that even though 55% of Americans still get their news from television, 21% of consumers are now accessing the web for information as well and the numbers are growing regularly.
Due to the ever shifting online marketing landscape, companies and entrepreneurs are constantly seeking for fresh and innovative methods to further improve their website, to be able reach out to more customers.
To answer this growing need, popular California-based online marketing agency, NGA Marketing, has recently launched new consulting services.
Their new services are designed for companies and internet entrepreneurs who want more exposure for their website. They now provide the following services:
1. Website Analysis
2. PPC and Banner Ads Marketing
3. Online Advertising
While other marketing agencies may have similar services, the combined experience and expertise of the people behind NGA Marketing, has resulted in innovative approaches that has made them the first choice by many of their clients.
Coupled with their dedication and attention to quality, they have been able to provide a truly first-class online marketing service that has earned them the reputation they enjoy now, both from their local and international clients.
"We believe that each of our clients deserves equal attention and time. So we provide all of them high quality services. All through the day we remain available to offer the customized SEO services at the most affordable rates. From this well-reputed California-based SEO Company you will surely get standard web solutions that will particularly be designed in order to cater to your needs as well as your budget."- NGA Marketing
Aside from their newly launched services, they also provide other outstanding web marketing services such as search engine placement, local marketing, social media marketing, and web design.
With their reasonable rates and excellent customer service, there is no doubt that NGA Marketing will continue to be one of the foremost web marketing agencies in California today.
For more information regarding their new consulting services, visit their website at http://www.ngamarketing.com or you may also contact their representative directly for inquiries.
About NGA Marketing
A reputable online marketing agency based in California USA that specializes in search engine marketing and optimization. They cater to both local and international clients and have a team of experienced IT experts ready to provide timely, effective and affordable online marketing solutions. They have recently launched new consulting services, namely website analysis, PPC, banner ads, and online advertising.
To visit NGA Marketing click here
News Source

**http://www.webpronews.com/internet-is-the-main-source-of-news-for-21-of-americans-2013-07