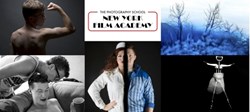 "I want people to be intrigued. To follow those lines that make up 'Man' … Appreciate our differences."
Los Angeles, CA (PRWEB) August 26, 2013
The opening night reception is Friday, August 30, 2013 from 7:00 – 9:00 PM. The exhibition continues through September 15, 2013. Gallery hours are Wednesday-Sunday, 1:00 to 6:00 PM. Closing night reception is Saturday, September 14, 7:00 – 10:00PM.
For further information, contact Bobbi Fabian, Chair of Photography at bobbi(dot)fabian(at)nyfa(dot)edu or 818-333-3558.
The exhibition, which features the work of five outstanding young photographers, is free and open to the public. "We're very excited that our talented students are able to showcase their work in such a prestigious setting," says Fabian. "They are to be congratulated on all their hard work!"
The five featured photographers who explore divergent paths of the photographic image are:
Born in the Philippines, Joseph Bornilla creates narratives that anthropomorphize everyday kitchen objects and food.
Nicole Campbell, from Nashville, TN, obscures the landscape through plastic, steeping the scenery in a candy-colored spectrum. She reflects her inner feelings, lending her work, "a serenity and clarity that is often unattainable in the city."
In Luc-Richard Elie's project, "Half Man/Half Amazing," we are asked to examine our own duality. The Brooklyn native photographer's subjects undergo a physical transformation for the camera, using their bodies as a canvas for self-expression.
Los Angeles native Liam Hayes questions the dearth of the male nude in the photo-historical canon of art. His images elevate the male body, asking us to find beauty in diversity. "I want people to be intrigued. To follow those lines that make up 'Man' … Appreciate our differences."
Aanchal Kalra's project, "Cocoon," represents the moments in life that seem "unphotographable." Born in India, she seeks out people in situations of self-reflection or abandon, giving us an opportunity to bear witness to the most private of worlds.
These students and their work reflect the international power of visual storytelling, taught at the New York Film Academy. The Los Angeles campus of the New York Film Academy offers several Photography programs – MFA, BFA, One and Two Year Certificate and 8 week workshops. For more information, please visit http://www.nyfa.edu or contact Bobbi Fabian, Chair of Photography at bobbi(dot)fabian(at)nyfa(dot)edu or 818-333-3558.