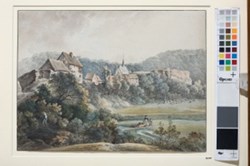 Landscape depictions that are truly expressions of the artist's soul.
Düsseldorf, Germany (PRWEB) August 28, 2013
The notion that each person looking at a landscape sees something different because everyone projects onto the landscape what's in their mind and soul, that the landscape reflects back to us who we are, and that the genre of landscape painting thus becomes a vehicle for self-expression is the basis of a new exhibit. Sixty-five landscape drawings and water colors comprise "Mirror of the Mind" at Düsseldorf's Museum Kunstpalast, November 16, 2013 through February 9, 2014.
All pieces are from the first half of the 19th century, a time when many artists rebelled against established academic rules. The genre of landscape painting was not much developed at the time and became an experimental ground for many artists who were looking for new ways of projecting inner life. The pieces in the new exhibit were selected from the museum's extensive collection of about 6,000 drawings from that time as examples of landscape depictions that are truly expressions of the artist's soul.
Included in the selection are works by well-known artists and great representatives of the era, such as Carl Blechen, Caspar David Friedrich, and Ernst and Adolph von Menzel. In addition, pieces from all major German art centers such as Munich, Berlin, Dresden and Düsseldorf are included.
For more information, visit http://www.smkp.de/en/exhibitions/upcoming/preview-2013.html.
The city's tourism office is offering hotel and city specials for many of the city's art-related events throughout 2013, including the "Mirror of the Mind" exhibit. The travel package called "Welcome2Art" can be booked right from the tourism office's website at http://www.duesseldorf-tourismus.de/nc/en/hotel-packages/hotel-package-welcome2art. Prices start at €58 per night per person based on double-occupancy for a 2-3 star hotel in the city center and at €93 per person for a 4-5 star hotel. All packages include breakfast, tickets for 2 permanent exhibits at Düsseldorf Museums (1 for Museum Kunstpalast, 1 for Kunstsammlung NRW/K20), a Düsseldorf Welcome Card (free public transportation within city limits, plus more than 40 free or reduced admissions to city attractions), a city information package, and 1 Merian city guide.
###
Düsseldorf Marketing & Tourism GmbH is the visitors and convention bureau of the city of Düsseldorf. Its responsibilities include tourism and city marketing, as well as conference and meeting marketing, hotel reservation services, fairs and convention services, city event ticket sales and advance ticket reservations. For more information, visit http://www.visitduesseldorf.de.
Düsseldorf Airport, Germany's Next Generation HubTM, offers several non-stop flights from US & Canadian cities (Atlanta, Chicago, Ft. Myers, Los Angeles, Miami, New York, Newark, Toronto), as well as convenient connections to many European cities. For more information about the airport, visit http://www.fly2dus.com.