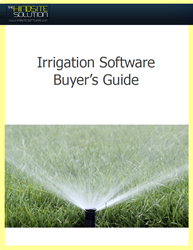 We just want to make sure that everyone reading this eBook understands how to compare solutions and find the right fit for their business.
St. Paul, MN (PRWEB) August 26, 2013
In 1998, David Crary had a problem: Paperwork was killing his productivity and profits. His irrigation business was growing, but he was spending nights and weekends chasing down the paperwork his business was generating. He knew there had to be a better way.
So he tried finding a software for his business. Only, there was none to be had. Instead of giving up, he decided to develop his own, eventually finding it so revolutionary that he started selling his field service software to other service businesses.
Luckily, for an irrigation business owner today, finding an irrigation software solution isn't difficult. There are a number of solutions available on the market. The problem today isn't finding a solution, it's finding the right solution. To help, HindSite Software recently released the Irrigation Software Buyer's Guide, an eBook that walks buyers through the process of evaluating irrigation software.
"I've bought a lot of software before, and the one thing I always struggle to do is ask the right questions and compare apples to apples," explains HindSite founder and president David Crary. "In this eBook, I set out to deliver answers to some of the common questions we've been asked in the past decade."
To help, the eBook contains a list of eight questions every irrigation professional should ask of potential software vendors and tips to better understand the answers they'll hear. A complete feature list helps irrigation business owners understand and compare features among multiple vendors. The guide also includes a deep dive into the anatomy of irrigation software and an overview of pricing models that can be found in the marketplace.
"Though HindSite is a great solution, we recognize that other software might be a better fit for some contractors," explains Crary. "We just want to make sure that everyone reading this eBook understands how to compare solutions and find the right fit for their business."
The Irrigation Software Buyer's guide is available as a free download at http://www.hindsitesoftware.com/irrigation-software-buyers-guide.cfm/.
About HindSite Software
HindSite Software has helped contractors better manage and grow their business with field service software since 2001. Initially designed as irrigation software, HindSite today assists service businesses with scheduling and billing (e.g. service scheduling software), contact and contract management, field data collection, and invoicing in QuickBooks®, Sage Peachtree®, and Simply Accounting®. This paperless field service management software has been proven to increase efficiency and organization, meaning greater profit potential with less administrative time.