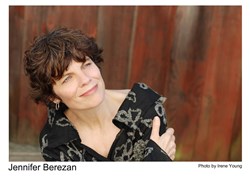 Palo Alto, CA (PRWEB) August 28, 2013
Sofia University will celebrate the launch of a new Professional Certificate in Women's Spirituality, with a two-day community celebration on Sept. 29-30. The professional certificate is a new offering of the Master of Arts in Women's Spirituality (WSMA) degree program. All are welcomed to attend the two day celebration taking place on Saturday, September 28 from 7:30 p.m. to 9:00 p.m. and Sunday, September 29 from 1:00 p.m. to 4:00 p.m. The events will feature performances by internationally-acclaimed women who are at the heart of the women's spirituality community including Jennifer Berezan, Max Dashu and Afia Walking Tree.
At Saturday's performance, "An Evening with Jennifer Berezan and Max Dashu," guests will be entertained with a vocal performance piece by singer/song-writer Jennifer Berezan. Berezan is known for her lifelong involvements in environmental and women's justice movements. Her passion for activism, Buddhism and earth-based spirituality are at the heart of her songs. While listening to Jennifer's music, you will enjoy the photo essay of Max Dashu. Also featured on Saturday, is independent scholar, writer, historian, and founder of the Suppressed Histories Archives, Max Dashu. Max will deliver a powerful presentation of her photography collection which contains over 14,000 slides, on global women's history, archaeology, Goddess traditions, female priests and female shamans. To purchase tickets please visit: http://sofia.givezooks.com/events/an-evening-with-jennifer-berezan-and-max-dashu
At Sunday's performance, "Drum/Talk/Story: An Evening with Afia Walking Tree," attendees can expect to experience an interactive performance which allows the audience to participate, riveting shared storytelling experience that combines movement, rhythm and as guests share their stories and embody the sacred within through the power of the drum. To purchase tickets please visit: http://sofia.givezooks.com/events/drum-talk-story-an-evening-with-afia-walking-tree
"As part of Sofia University's deep commitment to blending spirituality with academics, this new certificate program is truly transformational and will change women's lives," says Sofia University Professor D'vorah Grenn. "We are delighted to have Jennifer, Max and Afia Walking Tree join us for our opening weekend festivities launching the new academic year. They have been valued guest faculty in our Women's Spirituality MA program for many years, and we are glad both our students and the larger community will have this chance to see and hear their amazing work."
For more information about the online professional certificate in Women's Spirituality, please visit http://www.sofia.edu/content/new-womens-spirituality-certificate.
For more information about our Women's Spirituality Masters or Academic Certificate program please visit: http://www.sofia.edu/content/master-arts-women-spirituality.
About Sofia University
Founded in 1975, Sofia University (formerly the Institute of Transpersonal Psychology) is a private, non-sectarian university accredited by the Western Association of Schools and Colleges. For over 35 years, within the context of scholarship and research, the school has offered transformative education for the whole person, probing the mind, body, spirit connection. As Sofia University, the school is broadening its mission, reaching into multiple disciplines and adding undergraduate study. For more information, visit http://www.sofia.edu.
###