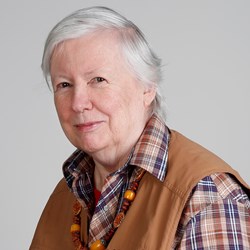 Palo Alto, CA (PRWEB) August 27, 2013
Sofia University is proud to announce the 2013 USA Book of the Year Award nomination for Professor Judy Grahn. Her book titled A Simple Revolution: The Making of an Activist Poet is a memoir about Judy's life growing up in Las Cruces, New Mexico and the process of discovering her identity as she emerged as one of the most inspirational and influential figures of the gay women's liberation movement.
In telling her life story, Grahn reflects on the profound cultural shifts brought about by the women's and gay rights movements of the 1960s and 1970s. The "simple" revolution she recounts involved not just the formation of new institutions (the Women's Press Collective, Oakland Feminist Women's Health Center, A Woman's Place Bookstore), but the creation of whole new ways of living, including collective feminist households that cut through the political and social isolation of women.
"A Simple Revolution is a courageous and eloquent testimonial of a complex and trailblazing life. Judy Grahn is one of a kind – fiery and humble, endearing and inspirational, insistent on a more just world for us all. She's an honor to know, a pleasure to read and I am grateful for her presence amongst us," said Sofia University Professor Dr. Neal King.
Judy currently serves as co-director and executive core faculty of the M.A. in Women's Spirituality program at Sofia University. She is internationally known as a poet, woman-centered cultural theorist, early gay activist, co-founder of lesbian-feminism, and early contributor to women's spirituality literature.
For more information about Judy Grahn please visit: http://www.sofia.edu/content/judy-grahn.
About Sofia University
Founded in 1975, Sofia University (formerly the Institute of Transpersonal Psychology) is a private, non-sectarian university accredited by the Western Association of Schools and Colleges. For over 35 years, within the context of scholarship and research, the school has offered transformative education for the whole person, probing the mind, body, spirit connection. As Sofia University, the school is broadening its mission, reaching into multiple disciplines and adding undergraduate study. For more information, visit http://www.sofia.edu.