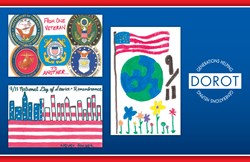 Relieving the social isolation of older adults is imperative to their well-being.
New York, NY (PRWEB) August 29, 2013
DOROT, a social service agency dedicated to alleviating social isolation among the elderly, will send hundreds of volunteers out into the community this September in remembrance of 9/11. DOROT volunteers will devote their time to visiting more than 500 frail and isolated older adults in New York City and Westchester County during DOROT's Sukkot Package Delivery and 9/11 National Day of Service and Remembrance on Sunday, September 15. Approximately 800 volunteers of all ages will participate in the event and its preparations to ensure that each elder receives a bag of specially selected holiday foods. Volunteer activities before the delivery include food drives, card-making and packing the bags. On September 15, volunteers of all ages will visit for an hour in the seniors' homes, engaging them in conversation and keeping them connected to the community.
Volunteers will pick up the packages for the seniors between 10:00 AM and noon at DOROT in Manhattan and from 10:00 to 11:30 AM in Scarsdale.
"Relieving the social isolation of older adults is imperative to their well-being," said Mark L. Meridy, Executive Director of DOROT. "More and more studies show that communication and contact ease loneliness and stave off symptoms of some age-related illnesses. During holidays and anniversaries, when their solitude is especially pronounced, DOROT, with the help of our dedicated volunteers, reaches out to the frail elderly to share their lives. Our Holiday Package Deliveries program, now in its 37th year, provides an emotional and social outlet to those who often have no one."
Included in the volunteer visits is a component introduced in 2011 to commemorate the tenth anniversary of 9/11. During their time together, volunteers and seniors will share memories and write personal messages of tribute and gratitude on specially designed DOROT postcards that will be delivered to first responders in the community. The postcards are the result of a nationwide contest in which volunteers submitted handmade cards marking the anniversary of 9/11. The original handmade cards will be delivered to local first responders and military personnel.
These and other commemorative activities are part of DOROT's 9/11 National Day of Service and Remembrance initiative uniting volunteers and seniors in a nationwide effort to reflect on the day. DOROT was selected as the only New York City recipient of a three–year 9/11 Challenge Grant from the Corporation for National and Community Service.
About DOROT
Since 1976, DOROT has worked to alleviate social isolation among the elderly and provide services to help them live independently as valued members of the community. We serve the Jewish and wider community, bringing the generations together in a mutually beneficial partnership of elders, volunteers and professionals. Visit http://www.dorotusa.org for more information.