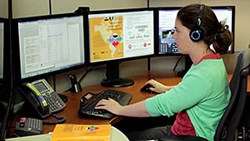 Mobile-friendly training allows you to accommodate remote and "on-the-go" employees.
Novi, MI (PRWEB) August 26, 2013
With this latest batch of new courses, Mastery Technologies celebrates its achievement of releasing 100, new and updated, workplace training courses on its third-generation, mobile-friendly, Video On Demand (VOD) platform. Since May, Mastery has maintained a continual flow of releasing course titles to make e-learning and training easy and convenient for employers and employees by enabling courses to play seamlessly on all mobile devices.
As of this week, 101 of the 500+ Video On Demand courses are available on the new platform. Mastery is continually working to update all of the existing VOD titles, while still releasing brand new titles. This week, the following titles were released:

Stress: Emotional Eating
Managing Stress
Mastering Stress
With these mobile-friendly Video On Demand courses, Mastery Technologies enables employers to take advantage of the real benefits mobile learning has to offer:
Enjoy the ultimate convenience of being able to train anywhere and at any time.
Easily accommodate remote and "on-the-go" workers.
Eliminate the requirement of a classroom or a connection to a desktop device for training participation.
Mastery's VOD courses contain the entire instructional presentation of a training course. All of Mastery's VOD courses include a topical index, displayed on the side of the video. Most VOD courses end with a quiz, including feedback on question answers. Additional resources such as downloadable workbooks and job aids may be included.
All of our newest Video On Demand Courses are marked as supposed ALL browsers in the "Browsers Supported" column of the course listing. You can see the full list of all our Video On Demand products on Mastery.com.
About Mastery Technologies Inc.
Mastery Technologies established the e-learning industry's first Training Content Network. Mastery partners with leading video content providers to co-produce the largest, standardized, workplace e-learning library available. Mastery goes beyond connecting customers with content, by pro-actively supporting both customers and content partners. In this way, Mastery fulfills its mission of helping build more successful, effective and amazing organizations.