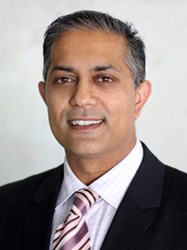 We are constantly researching and discovering new techniques for the most effective and successful knee procedures.
Beverly Hills, CA (PRWEB) August 30, 2013
Orthopedic surgeons, Rajan Patel, MD and Andrew Weiss, MD are the Medical Directors of the Knee Surgery Center of Excellence, a department of La Peer Health Systems in Los Angeles. At this cutting-edge outpatient surgery center, Dr. Patel, Dr. Weiss and their renowned team of orthopedic surgeons specialize in innovative, state-of-the-art arthroscopic knee procedures, including cartilage regeneration.
"Our extensive research has led to exciting discoveries in new and improved procedures for treating sports injuries and wear-and-tear in the joints," said Dr. Patel. "Through arthroscopic knee surgery, we can treat damaged or diseased joints with minimally-invasive techniques that leave little to no scarring."
Arthroscopic knee surgery is typically done as an outpatient procedure, which means that patients can go home the same day as their surgery. This is due to the fact that knee arthroscopy typically involves only two or three incisions – unlike traditional surgery – which in turn allows for a significantly reduced recovery period. During the procedure, a small camera is inserted through the incision, allowing the surgeon to view the inside of the knee or other joint without having to create a large opening in the skin. The procedure is then done completely through the guidance of the camera, which allows for better precision and speed than other types of knee surgery.
"This is an exciting time to be a part of the orthopedic surgery world," said Dr. Weiss, who specializes in sports medicine and orthopedic trauma. "We have powered the use of some of the most cutting-edge technology in knee surgery, and our procedures are some of the safest and most successful in the country."
Some of the advanced procedures the surgeons at the Knee Surgery Center of Excellence specialize in include ACI surgery, ACL surgery, Baker's cyst treatment, cartilage regeneration, knee arthritis treatment, meniscus surgery, patella fracture repair, partial and total knee replacement, patellar tendon surgery, patella fracture repair, patellofemoral instability, revisional knee surgery and subchondroplasty.
"We are constantly researching and discovering new techniques for the most effective and successful knee procedures," said Dr. Patel. "With this research, we hope to become worldwide leaders in the modern surgical techniques."
Rajan Patel, MD holds two unique board certifications in orthopedic surgery and sports medicine, along with a fellowship in adult reconstruction. He is a member of the American Academy of Orthopedic Surgeons, American Association of Hip and Knee Surgeons, and Arthroscopic Association of North America. He is also Qualified Medical Examiner (Q.M.E) for the State of California Industrial Medical Council.
Andrew Weiss, MD is a board-certified orthopedic surgeon at La Peer Health Systems in Beverly Hills. In addition to his background in general orthopedics, orthopedic sports medicine, and orthopedic trauma, Dr. Weiss loves working with children and has developed expertise in treating pediatric orthopedic trauma, including the operative and non-operative management of broken bones and other injuries. He has written many articles on laser surgery and the MRI evaluation of articular cartilage and has lectured extensively on the evaluation and management of sports related injuries.
La Peer Health Systems is an outpatient surgery center in Beverly Hills, founded by doctors and focused on providing excellent patient care alongside the most cutting-edge medical treatments available. With 50 world-renowned physicians in 14 specialties, comprehensive medical treatment is offered that takes patients from consultation to diagnosis, treatment, surgery, and ultimately aftercare. The 14 medical departments include orthopedics & sports medicine, gastroenterology, head & neck surgery, colorectal & general surgery, podiatry, ophthalmology, pain management, plastics & reconstructive surgery, gynecology, spine surgery, interventional cardiology, bariatric surgery, thoracic surgery, and anesthesiology. Unlike large hospitals, La Peer's unique structure offers extremely personal care in a safe and controlled environment.
To learn more about La Peer Health Systems, visit http://www.lapeerhealth.com.