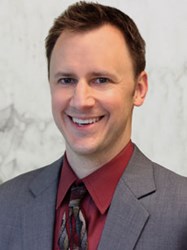 The benefits of this cutting-edge procedure can be life-changing for patients with chronic joint pain.
Beverly Hills, CA (PRWEB) August 27, 2013
Steven Meier, MD, is one of the medical directors of the Shoulder Surgery Center of Excellence, a department of La Peer Health Systems in Beverly Hills. On Tuesday, August 13, 2013, Dr. Meier made La Peer history when he performed the first hemi cap arthroplasty at this outpatient surgical facility.
A hemi cap procedure is a joint preserving surgery that attempts to maintain as much of the natural anatomy as possible. It is an innovative treatment for patients who suffer from chronic shoulder pain as a result of chondral (cartilage) lesions of the humeral head or osteoarthritis, and who are seeking a definitive treatment in order to return to work and/or normal daily activities with less pain and better function.
"The benefits of this cutting-edge procedure can be life-changing for patients with chronic joint pain," said Dr. Meier, who specializes in arthroscopic shoulder surgery. "Not only does it allow patients to get back to their normal lives much faster than with other procedures, but it can also potentially save them from having to undergo a total joint arthroplasty later on."
This particular patient of Dr. Meier's, who chose to undergo the hemi cap arthroplasty, had suffered from chronic shoulder pain for many years. In 2010, she had a shoulder arthroscopy to try to address her pain and dysfunction, but three years later, she found she was having more pain than before the surgery. When she sought new treatment to address this pain, she mentioned to Dr. Meier that she had been told by more than one surgeon that she needed to have a total shoulder arthroplasty, commonly known as "shoulder replacement surgery". However, since she was much younger than the typical age recommended for this procedure, she would likely need to undergo another major surgery 10 to 15 years after the first. She was not sure she wanted to commit to that, and wanted to know if there was another option.
After carefully examining her, along with her previous operative report and photos, and current imaging, Dr. Meier recommended the hemi cap procedure. This hemi cap procedure is less drastic than the total joint replacement surgery, and instead of replacing all of the bone and joint surfaces is only implanted into the head of the humerus alone, was performed with the intention of delaying the need for a total shoulder arthroplasty for several years. In fact, if only the lesions on the head of the humerus were the portion causing her pain, the hemi cap put in place to cover the end of her upper arm bone could even serve as the final procedure needed to treat her shoulder pain. The procedure would preserve most of her normal tissue and structure, and would not interfere with any future procedures (if ever needed).
"Having the opportunity to perform the hemi cap was very exciting," said Dr. Meier. "My team prides itself on innovating and performing the latest procedures that can hopefully treat chronic joint pain better than previous techniques."
Another advantage to hemi cap arthroplasty for some patients is that it can now be performed in an outpatient surgery center, and the patients are able to go home the next day instead of remaining in a hospital for several days after a total joint replacement surgery. The average rehabilitation and recovery time is about three to four months, although some patients may recover more quickly than others depending on their unique conditions.
"I believe this procedure will significantly change my patient's life, and I look forward to discussing these improvements with her as she progresses through her recovery," said Dr. Meier.
Steven W. Meier, MD, is a board-certified orthopedic surgeon specializing in sports medicine, especially injuries of the shoulder and knee. His emphasis is on minimally-invasive arthroscopic surgery with a particular emphasis on all-arthroscopic repair for rotator cuff injury and shoulder instability injuries, as well as reconstructive knee ligament surgery and cartilage restoration techniques.
La Peer Health Systems is an outpatient surgery center in Beverly Hills which was founded by doctors and is focused on providing excellent patient care alongside the use of the most progressive and cutting-edge medical treatments available. With 50 world-renowned physicians in 14 specialties, comprehensive medical treatment is offered at La Peer that takes patients from consultation to diagnosis, treatment, surgery, and ultimately aftercare.
The 14 medical departments include orthopedics & sports medicine, gastroenterology, head & neck surgery, colorectal & general surgery, podiatry, ophthalmology, pain management, plastics & reconstructive surgery, gynecology, spine surgery, interventional cardiology, bariatric surgery, thoracic surgery, and anesthesiology. La Peer's unique structure offers extremely personal care in a safe and controlled environment, quite unlike the general experience patients might receive in large hospitals.
To learn more about La Peer Health Systems, visit http://www.lapeerhealth.com.