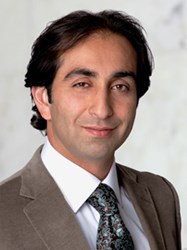 It is important for any patient undergoing a thyroidectomy to see a thyroid specialist.
Beverly Hills, CA (PRWEB) August 28, 2013
A study published July 23, 2013 on MedicalXpress.com discussed the results of a study conducted by Xinhua Hospital in which they retrospectively examined the clinical records of 5,344 thyroidectomy patients. The study looked at whether there was value in dissecting the recurrent laryngeal nerve in an attempt to prevent laryngeal nerve injury during thyroid surgery—the most common thyroidectomy complication.
"The recurrent laryngeal nerve is a delicate nerve very close to the thyroid that makes thyroidectomy a complex procedure. The results of this study showed that exposing the nerve so that it is clearly visible during surgery may be the best way to prevent laryngeal nerve injury," explained Babak Larian, MD, FACS.
Of the 5,344 patients studied, 548 had recurrent laryngeal nerve dissection while the other 4,796 patients did not. Out of the 548 patients who underwent laryngeal nerve dissection, only 12 (2.2%) experienced laryngeal nerve injury, whereas 512 (10.7%) of those who did not have laryngeal nerve dissection experienced nerve damage. It also showed that laryngeal nerve injury was less frequent in those whose surgeons used the inferior parathyroid gland and middle thyroid veins as landmarks, compared to those who used the larynx.
"No matter the exact technique, it is crucial that thyroid surgeons ensure they can clearly see the laryngeal nerve when performing thyroidectomy. This study may bring us one step closer to having a universally accepted method proven safest for thyroid surgery," said Dr. Larian.
Dr. Babak Larian is a world-renowned thyroid surgeon in Los Angeles who is known for his minimally invasive thyroidectomy techniques. Using a small incision and endoscopic technology, Dr. Larian and his team take great care to remove the thyroid while keeping the critical nerves and surrounding structures intact.
"It is important for any patient undergoing a thyroidectomy to see a thyroid specialist. While a safe procedure when performed by an expert, the delicate nature of the nerves as well as the proximity of the voice box, make it a complicated surgery. At the Center for Advanced Head & Neck Surgery, we have a long track record of successful thyroid removals," said Dr. Larian.
Babak Larian, MD, FACS, is a highly regarded Head & Neck Surgeon who places an emphasis on providing his patients with the best treatments available. Dr. Larian has a highly specialized knowledge in the performance of minimally invasive thyroid procedures and strives to stay at the cutting-edge of medicine. Upon completion of his medical degree at the prestigious University of California—Irvine Medical School, Dr. Larian completed a six-year residency program in otolaryngology at UCLA. Dr. Larian currently holds the acclaimed position of Chief of Head & Neck Surgery at Cedars-Sinai Hospital in Los Angeles.
For additional information regarding Dr. Larian and the treatment of thyroid disorders, please contact the CENTER for Advanced Head & Neck Surgery in Los Angeles by calling (310) 461-0300. Further information may be acquired by visiting http://www.advancedonc.com.