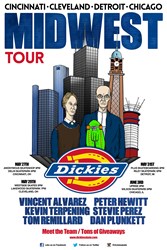 The team is always more than happy to interact with locals, kids, and supporters, whether they are die-hard fans or casual enthusiasts.
Fort Worth, Texas (PRWEB) August 26, 2013
International work wear brand Dickies just announced the conclusion of its most recent U.S. skateboard tour, "The Midwest Tour," which sent former and current skateboard team riders to Cincinnati, Cleveland, Detroit, and Chicago to do skateboard demos and drum up support for the team and the brand. This summer tour featured six riders: Dan Plunkett, Keven Terpening, Peter Hewitt, Stevie Perez, Tom Remillard, and Vincent Alvarez. It wrapped up in Chicago on June 3rd.
This year's four-stop tour lasted one week, a shorter version of the six-stop tour of the Northeast that the Dickies skate team did last year. During the Midwest Tour, the team wanted to use the urban landscape as their personal playground, visiting local spots and hot skate shops, performing skate demos for fans and local skaters, and grinding on every apparatus available.
In an effort to reach this sector of the counter-culture, an essential component of Dickies' customer base, the skate team rubbed elbows with the locals, gave out some free merchandise, and most of all, skated with the kids that came out to support the team and the brand. And as always, the skate team was able to showcase Dickies clothing in its element- designed tough, durable, and comfortable, making it a great value for the money.
The skate team travels with a video crew at every session to record the shenanigans, public relations successes, and all the great skating. Available on Hypebeast and other online video outlets, the video captures the Dickies skate team as exciting, hard-working riders who love the sport and are proud to represent their sponsor because Dickies products are comfortable, durable, and great for skating. The team is always more than happy to interact with locals, kids, and supporters, whether they are die-hard fans or casual enthusiasts.
Dickies is excited to have been able to conduct another national tour to promote its team and introduce its riders to a new generation of fans and potential customers. Watch the Dickies Skate Blog for more footage and productions from this tour and for updates about next summer's adventure. Get more info at http://dickiesskate.com/.
About Williamson-Dickie Mfg. Co.
Dickies, Affiliate of Williamson-Dickie Mfg. Co., is a global leader providing authentic women and men's workwear, uniforms and apparel, specializing in innovative performance work clothing since 1922. The company offers premium quality products at an unmatched value across a vast assortment of apparel, footwear and licensed goods in more than 100 countries. Dickies operates under Williamson-Dickie, who further operates through additional wholly owned affiliates in the United States, Canada, Mexico, Europe, China, Japan and the Middle East, with exclusive licensees and distributors in Africa and the Asia Pacific region, as well as under the Workrite, Kodiak and Terra brands. For additional information, please visit http://www.dickies.com.
Dickies Wraps Up Midwest Skateboard Tour with Chicago Send-Off