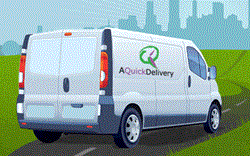 Atlanta, GA (PRWEB) August 27, 2013
AQuickDelivery, a recognized leader in same-day delivery, messenger and transportation services, announces next-day return delivery for roundtrip courier services. The announcement comes in an effort to provide its clients with more value-added service options, expand its client base, and increase sales growth. AQuickDelivery strives to be the best choice in same-day courier solutions throughout Atlanta and Georgia areas.
AQuickDelivery's next-day delivery offers a new roundtrip service. A roundtrip service consists of a customer's package being picked up, delivered to a destination to be altered or exchanging for another, then returning that item back to its original location. This next-day return delivery gives AQuickDelivery customers the option to have the packaged returned to them the next business day.
The service offers the versatility of same-day delivery many clients seek after. Customers engaging in a roundtrip service can now have an envelope delivered to their destination without the concern of the courier returning the package by close of business. Many law firms require their packages to be delivered prior to 5:00pm, especially those being delivered to a court system. Yet, even when requesting a roundtrip service, their package may not be ready for pick up until 3:00pm or late afternoon. The next-day return meets the need of having the critical aspect of their courier request performed the same day and simply returned the following morning.
AQuickDelivery strives to meet the various service demands of all of its customers. The next-day return delivery service can be ordered via phone or online. For any assistance or special requests regarding a delivery, AQuickDelivery is available 24/7 to discuss all courier service needs. The Atlanta courier creates optimal courier service solutions that result in a quality customer experience and greater savings for its customers.
AQuickDelivery is a premier same-day courier offering transportation and distribution services. From small packages to palletized freight, AQuickDelivery delivers fast! As a leader in the courier industry, their goal is to perform optimal courier logistic solutions and superior customer service every time. The Atlanta courier provides same-day delivery successfully for over 1,500 clients, including Fortune 500 companies nationwide.