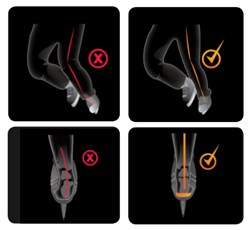 Vancouver, BC (PRWEB) August 28, 2013
Launching September 2013, the Hockey PLUS is the most recent addition to the Footlogics Canada family. This high end, high performance insole will make the most tired and sore skaters feel like they have a new pair of feet.
The Footlogics Hockey PLUS works by supporting the arch and re-aligning the foot, improving balance and providing more stability and control.
The extra cushioning that is provided by the Hockey PLUS doesn't come in the form of bulk; these slim and sleekly designed orthotic insoles are at the forefront of off-the-shelf orthotics insole technology.
With more biomechanical control, power strides, edging, stopping and push-offs become increasingly efficient, which reduces the fatigue in the legs and feet of even the most seasoned skaters. The cushioning top layer and embedded gel pads provide excellent comfort in both the heel and the forefoot.
"No other sport insole compares to the Footlogics Hockey PLUS in terms of comfort, performance and quality", President of Footlogics Canada, Lorna Boyle. "The Hockey PLUS insole not only supports and realigns, it offers the skater more control and less fatigue all while boasting maximum cushioning."
Each Footlogics Hockey PLUS provides the wearer with a high quality, low cost alternative to expensive and less effective alternatives. The Hockey PLUS features a cushioning PU base, gel padding in the heel and forefoot, an anti-odor micro-fiber top cover, built in metatarsal rise, longitudinal arch support and a hard TPU plastic shell all wrapped up in this slim and lightweight design.
Once again, Footlogics Canada is on the cutting edge of off-the-shelf orthotic insole design. The Hockey PLUS will be available in sport stores across Canada September 2013.