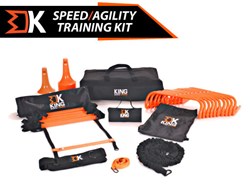 We want to continue to provide a solution that fits into a coach's budget.
Dallas, TX (PRWEB) August 28, 2013
King Sports training is known for providing durable equipment that is packaged in a way a coach can train their team efficiently. The company had offered a summer discount and extended that pricing into the fall.
"We have had a lot of good feed back from customers and want to continue to provide a solution that fits into a coach's budget," said company found Bob King. "It is difficult to have a successful training program if you do not have the resources to match your goals."
The King training system includes a bag full of gear at the reasonable price point of $169.99.
The King Sports Training Kit Includes:

16 Rung Agility Speed Ladder
10 Mini Hurdles
360 Degree Rotational Belt
Over Speed Bungee Cable
8 Tall Cones
Ladder Bag
King Sports Mesh Bag
King Sports Duffle Bag
This collection of equipment has been used to coach some of the top athletes in the world as well as junior level athletes of all levels.
"Speed and agility training is a big part of athletic development and having the right combination of equipment can greatly expand the amount of drills you can perform and number of athletes you can train," said King.
The King Sports Training website has a library of high definition training drills that are available for customers to use with the training equipment. These drills can be added to an existing training regimen or used to start a program from the very beginning.
Each piece of equipment has a different training emphasis, but all are used together for more dynamic training. The Agility Ladder increases footwork while promoting quickness and balance while the Mini Hurdles are used for acceleration training and increasing sprinting technique. Coaches use the OverSpeed Trainer to increase the intensity and effectiveness of each drill.
Written speed training programs by Bob King will be available soon for coaches to use. Be sure to stay tuned for more updates from King Sports Training.