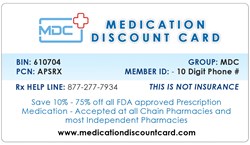 Our Spanish-speaking friends and neighbors are making contributions to their wider communities, and they certainly deserve access to the significant savings made possible by Medicationdiscountcard.com.
Margate City, NJ (PRWEB) August 27, 2013
With 37 million-plus Spanish speakers in the United States, the language is much more represented than any other outside of English. Only half of the country's native Spanish speakers are proficient in English, which poses a challenge for members of the business community who want to engage with these consumers. Medicationdiscountcard.com has risen to this challenge with the creation of a Spanish version of its popular website and pharmacy discount service: http://medicationdiscountcard.com/espanol.
"Despite the growth of Spanish as a first language in the United States, it's still a relatively underserved community. Businesses that don't take minority language groups into account are in fact shutting the door on countless potential customers. At Medicationdiscountcard.com, we believe inclusiveness is part of being a good corporate citizen," explained company spokesperson Jeremy Duboys. "Our Spanish-speaking friends and neighbors are making contributions to their wider communities, and they certainly deserve access to the significant savings made possible by Medicationdiscountcard.com."
Spanish as a first language is particularly common in South Florida, the Southwestern states, agricultural regions of the Pacific Northwest, and in urban centers throughout the country. In many of the border counties from California to Texas, Spanish speakers are a majority of the population. Since the 1990 Census, the number of Spanish speakers has more than doubled, a demographic trend that shows no sign of slowing.
Rising healthcare costs are an equal opportunity problem, making no discrimination based on language or cultural heritage. Spanish-speaking citizens and guest workers can benefit from prescription savings as much as anyone else. From the English version of the site, accessing the Spanish version is simply a matter of clicking on the drop-down menu at the top of the page.
The addition of a Spanish language version is the latest move in Medicationdiscountcard.com's mission to be the leading provider of prescription discounts for consumers across the nation. The company boasts an average savings of 60%10% for name brand medications and 50% for generic medications, outclassing the competition by a wide margin.
Duboys continued: "The best part about our pharmacy discount card is that everyone is eligible. It's free, and there are no health requirements. Even those who already have insurance can often find a better deal with the discount card than that provided by their insurance plan."
The list of drugs eligible for discounts with the free pharmacy savings card is extensive. Many of the most common categories are represented, including antidepressants, antibiotics and high blood pressure medications. The pharmacy savings card even provides savings on drugs not generally covered by medical insurance, including diet drugs and smoking cessation aids. Some medication members can receive discounts on are Lyrica, Suboxone, Tramadol, Xarelto, Vyvanse, Linzess, and many more.The full, alphabetical list of covered prescriptions is here:
medicationdiscountcard.com/drug-full-list.
Through carefully negotiated agreements, Medicationdiscountcard.com is able to offer savings on thousands of prescription drugs at many of the largest pharmacy chains; after factoring in discounts of up to 70%, the cost to the consumer is comparable to the best insurance-based prescription drug benefits.
Medicationdiscountcard.com takes consumers' privacy and health information seriously. The company will never share personally identifiable information with a third party.
Currently, Medicationdiscountcard.com's prescription savings cars are only valid at participating pharmacies in the United States.
About Medicationdiscountcard.com
Medicationdiscountcard.com was started to provide discounts on prescription drugs to those who need it most. Our goal is to provide you with the largest savings possible when compared to other cards. We invite you to compare the savings our card will provide to other leading providers.