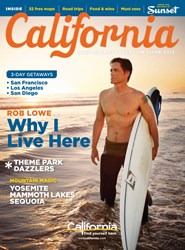 Sunset Publishing has been a part of our family for more than a decade and our work together continues to get better. Together we are showing the world what an amazing destination California is for every type of traveler.
Sacramento, CA (PRWEB) August 27, 2013
As part of its acknowledgement of the best brands and marketing agencies from around the world, the 2013 Content Marketing Awards (CMA) announced that the Official California State Visitor's Guide has been honored with the CMA Silver award for Best Tourism Publication. The Content Marketing Awards aim to honor publications based on exemplary strategic impact.
Published by Sunset Publishing for Visit California, the state's official tourism agency, the Official State Visitor's Guide is both a glossy travel magazine with compelling editorial content and a practical detailed guidebook. The guide helps visitors find the best ways to explore the wonders of the Golden State, from glorious beaches and mountains, lush wine country and abundant farmlands to dramatic deserts, dynamic cities and fun ways to play. With every page, it's evident that California has something for everyone.
The judges of the 2013 Content Marketing Awards evaluate each media project on a defined set of criteria specific to each category. Within the field of travel and tourism, Sunset and Visit California were amongst hundreds of entrants whose projects were judged on such elements as informational and entertainment value, quality of writing and display copy, creative use of imagery and typography, and consistency of color palette and style.
"We are excited to have Visit California's Visitor's Guide selected for this honor, especially given the esteemed publications and organizations that competed in this category," said Caroline Beteta, Visit California president & CEO. "Sunset Publishing has been a part of our family for more than a decade and our work together continues to get better. Together we are showing the world what an amazing destination California is for every type of traveler."
The premier authority on living in the West, Sunset Publishing has been Visit California's consumer content partner for twelve years. In this role, Sunset focuses on audience engagement and analytics across traditional and digital channels, including development and publication of the California Official State Visitor's Guide and Official California State Map, international guides, website content for visitcalifornia.com, and mobile strategies.
"It is an absolute honor to receive this Content Marketing Award, especially for our work with our valued, longtime partner, Visit California," said Shannon Thompson, Sunset Publishing's VP, Marketing and Brand Development. "Sunset was founded to promote the West as a destination, so developing content to attract tourists to the amazing state of California is part of our DNA."
Specializing in design, structure, and subject, the Content Marketing Awards are evaluated and presented by the Content Marketing Institute and McMurry/TMG. The complete list of the 2013 winners can be found at http://www.contentmarketingawards.com
About Visit California
Visit California (formerly known as the California Travel & Tourism Commission) is a non-profit organization with a mission to develop and maintain marketing programs - in partnership with the state's travel industry - that keep California top-of-mind as a premier travel destination. According to Visit California, travel and tourism expenditures total $106.4 billion annually in California, support jobs for 917,000 Californians and generate $6.6 billion in state and local tax revenues. For more information about Visit California and for a free California Official State Visitor's Guide, go to http://www.visitcalifornia.com. For story ideas, media information, downloadable images and more, go to media.visitcalifornia.com.
About Sunset
Sunset (http://www.sunset.com) is the leading lifestyle brand in the West. Through magazines and books, events and experiences, and digital and social media, Sunset covers the West's best flavors, destinations, design trends, and innovations. Sunset engages and inspires an audience of over five million educated, active and affluent consumers every month through its five regional print editions—Pacific Northwest, Northern California, Southern California, Southwest and Mountain—as well as via all tablet devices and its website. In addition to its print and digital publication, Sunset showcases the region's unique lifestyle and noteworthy destinations through its flagship events, established home programs, licensing partners, books and International Wine Competition. Sunset Publishing is part of the Time Inc. Lifestyle Group.