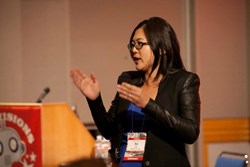 At MLD, constant learning, stretching, and welcoming new challenges while mastering existing skills are essential catalysts for design ideation and innovation.
San Diego, CA (PRWEB) August 28, 2013
Fall 2013 offers a cornucopia of thought leadership and innovation celebrations across a broad spectrum of creative pursuits and social applications for San Diego-based MLD, a globally recognized design + innovation studio. Committed to growing in new and unexpected ways, the MLD team draws knowledge, inspiration, and enthusiasm from engaging the world's most brilliant and socially conscious designers, artists, scientists, engineers, educators, and entrepreneurs. MLD looks forward to attending a myriad of gatherings with the knowledge community and reaping a full harvest of new learnings and insights.
MLD empowers brands and designs experiences that shape the stories of culture. No story exists alone, but instead is a part of the tapestry of human experience that promotes cultural growth and development. On September 18 and 19, MLD brand strategist & copywriter Carole Jerome will join 400 other innovators from around the globe to attend one of the nation's most exciting storytelling events: the Business Innovation Factory's #BIF9 Summit in Providence, Rhode Island. Held annually, the Summit provides a forum for rule breakers and entrepreneurs to commune, collide, and collaborate on ways to design, prototype and test new ideas, business models and social systems that enhance life in the real world.
Technologically progressive, MLD designs intuitive user experiences across multiple platforms and focuses on improving user experience with innovative functionality. Because the team aspires to innovate and excel at every touch point, it seeks out the company and experiences of the world's innovators. On September 21 and 22, MLD designer Suzanne Ito will be making tracks to World Maker Faire New York. Billed as the "Greatest Show (and Tell) on Earth," Maker Faire celebrates the love of invention, creativity and resourcefulness. It brings together an enthusiastic, global, grass-roots community of DIY inventors, from tech fields to science, engineering, art, craft, performance, industrial design and education. Participants enjoy immersion in a fascinating spectrum of new ideas. Curiosity is coded in MLD DNA, and the team welcomes all opportunities to expand its dimensional thinking as it creates ideas, products, and partnerships.
Upon returning from New York, Suzanne will further indulge MLD's passion for technology innovation at "The Atlantic Meets the Pacific" forum on October 2,3, and 4 in La Jolla, California. Here thought leaders including James Bennet, Editor-in-Chief at The Atlantic; Deepak Chopra, internist, author, and founder of The Chopra Foundation; Chris Anderson, CEO of 3D Robotics; and Roni Zeiger, former Chief Health Strategist at Google and CEO of Smart Patients will lead discussions. The three-day program showcases progress in health research and IT and the policies and practices behind real world implementation of the latest innovations. The program should add compelling ideas and insight into MLD's exponential capabilities as it transforms a broad range of environments, including health environments, into design experiences that embody mindfulness and global thinking and encourage user interaction.
And on October 8 and 9, Mel Lim will be speaking in Chicago at the student-curated IIT Institute of Design's 12th Annual Design Research Conference. This year's theme, Exploring Creative Balance in Design, takes a deep look at how design lives in a dynamic world and how designers must balance multiple creative forces, human issues and systems in order to advance new perspectives. Mel joins 20 other speakers, including Don Norman, Lawrence Abrahamson from IDEO, Matt Jones from Google Creative Lab, and Darlene Damm, founder of DIYRockets for two days of sharing compelling experiences, methods, and approaches, and promoting the impact of design research on innovation.
At MLD, constant learning, stretching, and welcoming new challenges while mastering existing skills are essential catalysts for design ideation and innovation. Knowledge provides the tools for formulating new perspectives and approaches to creating a better world. For MLD, the innovation conferences serve as both playground and classroom where the experiences and knowledge gained will inspire the team to appreciate, laugh, innovate and excel as it works to design the future.
About MLD/Mel Lim Design: MLD empowers brands and designs experiences that shape the stories of culture. The multi-platform business innovation and design studio lives its brand, driving hard to solve challenges while quietly making a better world. MLD creates ideas, products, and partnerships with dimensional thinking, holistic design, and aspirational intensity. Visit mellim.com.
About Mel Lim: Mel Lim cares to design a better world. She knows that begins with the individual and a commitment to holding fast to one's dreams, wherever they may lead. This award-winning, Malaysian-born design leader received her foundation design diploma from the London Institute's Central Saint Martins College of Arts and Design and then moved across the world to attend the Art Center College of Design in Pasadena, California where she graduated with highest distinction, earning a Bachelor's of Science in Environmental Design. Mel helps lead the industry in exploring how to use design methodologies in business innovation. Intent on actively shaping a better world, she is committed to understanding the processes of designing brands, and the ways they impact businesses and customers, both socially and environmentally.
Mel has more than 15 years of international experience in project management, user experience design, and brand development. She has worked with top architectural and design firms in the United States, and since establishing her own firm in 2003 has been consulting and designing for top Fortune 100 companies and others, including Comcast, UGG/Deckers, and Axure. Mel's work, which can be seen in London, Tokyo, Copenhagen, and all the way to the UAE, has won numerous awards including the Creativity Annual, PRINT, W3, IMA, American Institute of Architects (AIA) LA, The Webby, and has been featured in more than 500 magazines and blogs worldwide including New York Times, the Wall Street Journal, C Magazine, Lucky Magazine, Riviera, Interiors, and DMI-Design Management Review.