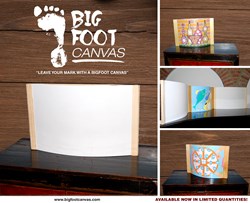 "There hasn't been a three dimensional painting surface like this since cave walls."
Yardley, Pennsylvania (PRWEB) August 30, 2013
Bigfoot Canvas, a creative art studio based out of Yardley Pennsylvania, announces the release of their patent-pending bowed canvas/frame, which is now for sale at http://www.bigfootcanvas.com. The first of its kind, the innovative canvas is bowed in its frame, which allows the artist to portray a sculpture-like 3D element to their artwork.
Artist and sculptor Anthony Calderone invented the canvas out of his need to add a new element to his artwork. Handcrafted by Calderone himself, the canvas can stand upright on a flat surface for display or can be hung on a wall. The frame is made out of high quality radiata pine, which can be stained or painted in any color of the artist's choosing to complement their work of art.
Bigfoot Canvas is the only known curved canvas for artists. The canvas/frames are handcrafted entirely by Calderone himself, and he has completed the research and development of the product. The final result is a free standing, 3-D canvas that breaks all known barriers in painting on canvas.
"The revolutionary bowed canvas/frame is quite striking when seen for the very first time. It invites a sense of creativity and excitement for artists who are seeking new methods in their artwork," exclaims Calderone. "Let your imagination run wild, like a young child discovering something new for the first time. Embrace your innocence and creativity to make a masterpiece that will channel your inner youth and help you bring forth a new artistic perspective."
Because Bigfoot Canvas is a small manufacturing company, only 20-25 canvas/frames are being produced per day, limiting supply. Being a US made, handcrafted product, artists who purchase the canvas/frame will gain appreciation for the careful ingenuity and artistry involved in the invention of the canvas. The canvas/frame itself can almost be considered a work of art, like a piece of sculpture.
About Bigfoot Canvas
Bigfoot Canvas is a small manufacturing company based out of Yardley, Pennsylvania. Calderone has been fine-tuning the canvas for the last five years, and is looking forward to sharing his concept with other artists.
Contact:
For more information, contact Anthony Calderone at Bigfootcanvas@gmail.com , via phone at (215) 493-1807, or visit http://www.bigfootcanvas.com.