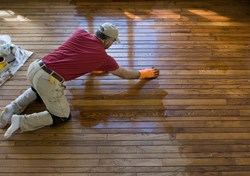 (PRWEB) August 27, 2013
USA Business Insurance has announced that Flooring Contractor General Liability Insurance is available for independent contractors as well as companies that have a number of employees. This coverage is written for those who sell and install carpeting, hardwoods, tile, ceramic, vinyl or any other form of resilient flooring.
Home owners as well as building owners look forward to the installation of their flooring as this event marks the near completion of any building or remodeling project. Some of the customers like to be on hand and walk around as the installation is in progress. While Flooring Contractors try to deter the client from being on site while work is in progress, the client is, after all, paying the invoice. With uneven elevations, treads and footings a customer can slip, fall and become injured.
Flooring Contractor General Liability Insurance protects the policy holder from having to pay legal fees and medical bills out of pocket. With the availability of the new program, many exclusions have been removed to provide broader coverage for the business owner. Having to pay doctor bills and lawyers' fees could potentially put the contractor out of business.
The extension of the new General Liability Insurance program not only protects the flooring contractor now, but also protects them in the future with completed operations coverage. Instances arise several years after flooring is installed and the customer claims that there was faulty installation or substandard product used. Flooring Contractor General Liability Insurance protects the business owner from any claims, damages or attorney's fees resulting from incidents that may or may not have been his fault. With very few exclusions, the new Flooring Contractor General Liability Insurance will pay for any claims made by the customer should the contractor somehow damage the customer's home or office during the flooring installation.
Unfortunately there is that rare occasion when a customer who has visited a showroom or been on hand during installation who claims to have been injured from a fall or other mishap. Having a Flooring Contractor General Liability Insurance policy allows the insurance company to settle these smaller claims quickly thus eliminating the need for high legal fees or court awards.
When the Flooring Contractor purchases General Liability Insurance that covers the end user or customer, all contractors should consider adding an Inland Marine policy. Inland Marine covers all the expensive, specialized tools the contractor uses in the completion of jobs. This coverage is valid whether the tools are in a showroom, warehouse, or on the job site. These tools are covered against vandalism, damage and theft. When time is of the essence and a Flooring Contractor is struggling to meet a deadline, loss of tools could mean more than expensive replacement. If the tools are not replaced immediately, the contractor could lose the job or incur penalties for delays.
To learn how Flooring Contractor General Liability Insurance can protect every type of company in the flooring industry, visit http://www.businessinsuranceusa.com.
About USA Business Insurance: USA Business Insurance writes general liability insurance and Inland Marine Insurance for many types of companies who supply inventory to the flooring contractor as well as the contractors themselves. Specialists are available who understand all the terminology associated with the industry and can answer any questions.