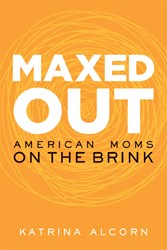 ...research shows that many working moms have already leaned in too far—they're "maxing out."
(PRWEB) August 29, 2013
Last spring, Sheryl Sandberg sparked a national discussion with her suggestion that women need to "lean in" to their careers, but research shows that many working moms have already leaned in too far—they're "maxing out" in an effort to meet the daily demands of their lives.
Mothers are now primary or substantial earners in two-thirds of American families, yet they're constantly being judged for their choices and struggling to meet expectations in a workplace that is uniquely unaccommodating to their needs.
With Labor Day fast approaching amidst back-to-school activities, Katrina Alcorn—author of Maxed Out: American Moms on the Brink and founder of Working Moms Break—offers strategies for making the lives of working moms easier, while avoiding stereotypical self-help advice on "having it all."
Here are 10 ideas for working moms—and those who love them—that can help create change in the home, heart, workplace, and society at large:
1. Practice saying no—Many working mothers are allergic to the word no and feel obliged to say yes, again and again, but it's not about letting other people down. When moms say no to others, they're simply saying yes to themselves.
2. Talk with family—Communicate as clearly as possible with spouses or family members about how they can make life a little more manageable, from taking the kids for a few hours to being on dish duty.
3. Be an ally to other women—All women have felt judged at one time or another about their choices as mothers, and many perpetuate this cycle even though they know better. Remember the cultural and institutional forces that make working and parenting difficult, and cut each other some slack.
4. Ask the boss to allow work from home—Studies show that about 50 percent of jobs are compatible with working from home at least part-time. Besides not having to worry about commuting, peace and quiet can mean more productivity.
5. Start a babies-at-work program—According to the Parenting in the Workplace Institute, these programs cost almost nothing to implement and have been shown to increase employee retention, improve workplace morale, and lower health care costs.
6. Sign up for MomsRising—10 percent of the proceeds of Maxed Out will be donated to this leading advocacy organization for moms. They lobby for parental leave, flexible work, affordable child care, and other policies that improve the lives of families.
7. Register for an absentee ballot—Want to vote, but get too busy on Election Day? Sign up for an absentee ballot and save a trip to the polls. Nothing changes in a democracy until people vote.
8. Donate to EMILY's List—Women make up half the population, yet they still only hold about one-fifth of the positions in national governments around the world. Thanks in part to EMILY's List, the US election ushered a record number of women into Congress in 2012. Keep that trend going by making a donation.
9. Let the HR manager know about ROWE—A management strategy gaining traction in corporate America, Results-Only Work Environments (ROWE) goes beyond flexible scheduling, emphasizing employee results over traditional measures like the number of hours worked. Companies are finding that it actually saves them money and boosts productivity.
10. Change the conversation—The discussion about whether or not women can "have it all" too often devolves into a discussion of personal choices, without looking at the bigger picture. The American workplace is largely unsupportive of working families, and it's important to recognize that being "maxed out" is often a collective problem, not an individual one.
For more about Katrina Alcorn, visit WorkingMomsBreak.com or watch her book trailer here. Follow her on Twitter @kalcorn and join the conversation using #MaxedOutMoms. To purchase Maxed Out, visit a local bookstore or an online book retailer.
About Seal Press
Seal Press was founded in 1976 to provide a forum for women writers and feminist issues. Since then, Seal has published groundbreaking books that represent the diverse voices and interests of women—their lives, literature, and concerns. Seal's authors are radical and original thinkers, professionals with a distinct point of view, gutsy explorers, truth-tellers, and writers who engender laughter, tears, and rage. Seal Press publishes books with the goal of informing women's lives. Based in Berkeley, Calif., Seal is a member of the Perseus Books Group. To learn more, visit the Seal Press website.