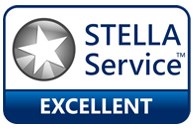 Notably, Schulershoes.com has been awarded a rating of EXCELLENT.
Bloomington, MN (PRWEB) August 30, 2013
STELLAService, an independent company that rates the customer service performance of online businesses, recently recognized Comfort Shoes retailer, Schulershoes.com as delivering outstanding customer service selling comfortable shoes for women, children and men. Notably, Schulershoes.com has been awarded a rating of EXCELLENT, which is achieved by less than half of thousands of online businesses evaluated by the third-party ratings firm.
Tapping data collected from a thorough evaluation, STELLAService has leveraged a nationwide network of mystery shoppers, using the most robust methodology ever assembled for online customer service, to stress test hundreds of different elements of the online customer service experience. Since Schulershoes.com has earned the prestigious EXCELLENT rating, they are entitled to display the STELLAService seal on their website. This seal is the only trustmark on the Web that objectively and credibly communicates to shoppers that a business is truly dedicated to providing great customer service.
Schulershoes.com carries a vast inventory of comfort shoes for men, women and children, including casual and dress shoes, clogs, slippers, and boots. Additionally the company offers an extensive selection of sport shoes for both the competitive athlete and the recreational user, including walking shoes, running shoes, general athletics, court shoes and cross-trainers.
About STELLAService:
STELLAService is dedicated to customer service—helping consumers find it and helping businesses achieve it. STELLAService is the first and only independent provider of customer service ratings for online retailers. The company leverages a nationwide network of full-time mystery shoppers to evaluate each site undercover, ensuring findings that are unbiased and true to the shopping experience. Based in New York City, the company operates a syndicated data platform, STELLA Metrics, for monitoring and benchmarking customer service performance across hundreds of metrics. Further, the company publishes reports and additional research that help companies worldwide to improve their service. For additional information about STELLAService, please visit http://www.stellaservice.com
About Schuler Shoes:
As the oldest family-owned shoe store west of the Mississippi, Schuler Shoes has been committed to supporting healthier lives through foot comfort since 1889, when Vincent Schuler opened the first store on Washington and Broadway in Minneapolis. Now in its fourth generation, Schuler Shoes consists of eight brick-and-mortar stores across the Twin Cities' metro area and Saint Cloud, as well as Schulershoes.com that offers convenient 24-hour shopping nationwide. For more than a century the company has been providing exceptional customer service to ensure high quality comfort shoes for men, women and children, all of which has naturally been extended to the prompt and efficient online shopping experience. For additional information, please visit http://www.schulershoes.com.