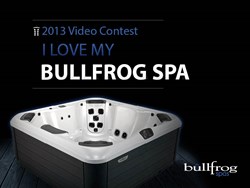 It's so easy a baby can do it.
Salt Lake City, Utah (PRWEB) August 27, 2013
Bullfrog Spas recently announced their "I Love My Bullfrog Spa" Video Contest. The winner will receive an upgrade to a new 2013 Bullfrog Spa.
Those desiring to enter may simply:
1. Create a video, at least 30 seconds, telling the world why "I Love My Bullfrog Spa."
2. Upload the video to YouTube.
3. Enter the contest in the Video Contest Tab on the Bullfrog Spas Facebook Page.
Videos must be uploaded and entries received by September 23, 2013 and the contest is open to anyone, except employees, dealers, and those otherwise affiliated with Bullfrog Spas.
Bullfrog Spas has published these tips for winning:

Be you and be real.
Be creative. Boring is, well, boring.
Say "I Love My Bullfrog Spa" a lot. We love hearing that.
Show your Bullfrog Spa, or, if you don't have one, get creative proving why you love it anyway.
You don't need to be Spielberg but do your best in overall presentation.
The prize for the contest will be a new 2013 Bullfrog Spa of similar specs to the winner's current model. If the winner does not own a Bullfrog Spa they will be awarded a Bullfrog Spas Model R7 hot tub personalized to the winner's desired specifications. Bullfrog's line of portable hot tubs was entirely redesigned for 2013 with a focus on stylish aesthetics, new technology, and even higher quality standards, for which Bullfrog Spas has become known.
For more information on the "I Love My Bullfrog Spa" Video Contest visit http://www.bullfrogspas.com/video-contest or the Video Contest tab on the Bullfrog Spas Facebook page.
About Bullfrog Spas
Founded in 1996, Bullfrog International, burst onto the pool and hot tub scene by creating quality portable hot tubs with their patented JetPaks. JetPaks are modular jetted spa seats that can be interchanged at any time and the method of building hot tubs with JetPaks eliminates hundreds of feet of pipes and hundreds of pipe fittings, creating a more reliable and efficient plumbing system. JetPaks make Bullfrog Spas completely customizable and more energy efficient. Bullfrog's new JetPak Therapy System is a re-engineered version of the original JetPak System that eliminates nearly all conventional plumbing from the spa seats. Bullfrog International is headquartered in the Salt Lake City, Utah metro area and distributes, licenses, and retails its products in the United States, Canada, Australia, New Zealand, Asia, and Europe.
Bullfrog executives are available for interview, including Jerry Pasley, CEO of Bullfrog International.