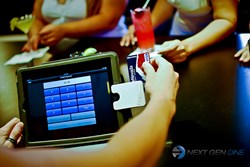 Next Gen Dine strives itself in keeping all credit card information safe and secure.
Las Vegas, Nevada (PRWEB) August 28, 2013
Next Gen Dine restaurant point of sale by Prelag Partners, LLC announced that the PhotoSnap integration onto the iPad point of sale is on its way to help make payments secure and keep customer identities safe.
PhotoSnap technology protects against identity theft by taking an image of the credit card holder and matching it to the one on record. If the images do not match, the credit card cannot be processed and the customer has to find a different form of payment.
The restaurant sets the limit for what amount of money does not require PhotoSnap. If the tab exceeds the predetermined amount, then the POS will ask the server to match the identities through PhotoSnap.
Next Gen Dine strives itself in keeping all credit card information safe and secure. This is why PhotoSnap is a great integration for the restaurant POS.
Next Gen Dine is a product of Prelag Partners, LLC.
To learn more about Next Gen Dine and services offered, please visit the company's website at http://www.nextgendine.com/.
About Next Gen Dine
Next Gen Dine is a cloud-based, mobile restaurant point of sale software designed for the iPad. Restaurant owners can now capitalize on the benefits of a full-featured POS system for a fraction of the cost of a traditional POS. Due to the mobility offered by the software, employees can take orders directly at the table, take credit card payments at the customer's side, and drastically improve restaurant operating efficiency. Orders placed are sent directly to the appropriate prep station, therefore decreasing order turnaround time. Next Gen Dine also offers restaurant owners customer loyalty, gift card, social media, and fine-grained marketing tools.
Next Gen Dine helps keep your credit card information safe and is the future of restaurant dining. For more information about the product or to find out how your restaurant can take part of Next Gen Dine, contact Paul Roberts, Managing Partner at 1-877-342-2218 or paul(at)nextgendine(dot)com. Follow us on Twitter, Facebook, LinkedIn.