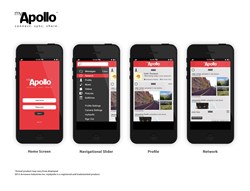 "We had an ambition to make something that appealed to us, as users of the product. We came of age in the era that spawned the Internet as we know it today, so who better to effect further change on that very system?" -Arroware President Harvey Medcalf
Toronto, Ontario (PRWEB) August 28, 2013
myApollo, the brainchild of Greater Toronto Area-based Arroware Industries Inc, is a social media platform that will offer users an efficient and reliable way to synchronize, back-up and share their files while discovering the media content of other users. Powered by a dedicated team of young entrepreneurs and built upon groundbreaking proprietary technology, myApollo wants to make the lives of its users easier and more efficient by helping to manage their digital identity while connecting to one another in a true convergence of cloud computing and social media.
Where the potential of myApollo truly shines is in expanding the capabilities of an iOS or Android smartphone in conjunction with affiliated Macintosh and PC devices to create personal file-sharing and synchronization networks. Pictures, videos, music, and documents: people use these mediums every day to enrich their lives and get things done. The problem that myApollo was created to solve is that these files are often scattered across many different hard drives and devices, meaning that sharing rich media content with friends and colleagues can involve tedious searching and manually moving files between devices with peripherals such as USB thumb-drives.
myApollo will change this paradigm by giving users the power to create their own secure network of trusted peers, a "Personal Cloud," making files available as broadly or as privately as the user desires. Media designated to be shared is, in turn, distributed across the associated devices in fragmented and encrypted chunks, each of which containing what are effectively blueprints that can be used to reconstruct the entirety of the original file. Members of a myApollo network will be able to search, discover and share media across the platform using a revolutionary new protocol that offers effectively unlimited storage capacity, unfettered access to files and the convenience of carrying the entire digital world in your pocket. Until now, "cloud storage" has really meant "your files are stored on a computer in a massive data-center." myApollo will challenge the status quo by keeping a users files where they belong: on their own devices, and on the devices they trust, an arrangement that emphasizes both security and privacy.
That's only the beginning, the sky is the limit and myApollo plans to offer productivity solutions to professionals of every kind across the knowledge and media economy of the 21st century. Arroware believes that the digital infrastructure it has created with myApollo will have vast implications for how wireless devices such as smartphones, computers, gaming consoles and even household appliances communicate commands and coordinate functions, using the personal cloud networks to move data efficiently and securely. Additionally, myApollo provides a new pipeline for major digital content providers to transfer their product to the consumer in an efficient and reliable manner, opening the door to a radical transformation of how all forms of media and content are disseminated from the marketplace. With this in mind, Arroware is not sitting idle following the technological achievement of myApollo, and has set its sights on further developments that can better harness the incredible potential of the Personal Cloud.
myApollo will be launching its service over the fall of 2013, starting with the Google Play store for Android. Macintosh, PC and iOS clients will be rolled out over the following weeks.
About Arroware Industries
Arroware Industries is based out of the Greater Toronto Area, Canada and currently employs around twenty professionals from such diverse fields as engineering, commerce, law, graphic design and computer science.
With a focus on cutting-edge technologies, including social media/cloud computing convergence, cross-platform solutions, synergy with existing media delivery systems, and high-performance hardware development, Arroware prides itself on fostering an environment that encourages innovation and ingenuity.
If you would like to learn more or schedule an interview with the minds behind myApollo, kindly contact Natalie Polanski, Public Relations Co-ordinator, via npolanski@arrowareindustries.com and follow myApollo on Twitter @my_Apollo.
Innovating new ways to help the world learn and grow- myApollo is changing the way people connect, sync and share!