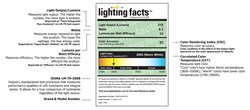 Lighting Education from Lightology's Contemporary Lighting Experts
Chicago, IL (PRWEB) August 28, 2013
Contemporary lighting retailer Lightology once again equips shoppers with everything they need to know to make informed lighting purchases. This time, just in time for the "back-to-school" season, Lightology presents two helpful articles that tackle the ins and outs of buying the perfect desk lamp. Written by Jackie Bowen, the resident desk lamp expert at the Lightology Showroom, both articles also contain helpful recommendations for Lightology's top desk lamp picks.
The first article addresses everything you need to know to pick the right lamp. From style and décor questions to slightly more technical considerations like lamping options, color temperature, and beam spread, Lightology has it covered. The article also addresses the importance of quality task lighting at every age, including protecting your eyes in youth and accommodating changes in vision as you mature.
The second article calls out specific comparisons between halogen or incandescent desk lamps and their new LED counterparts. For those considering contemporary LED desk lamps, this article - "The Top 5 Reasons to Choose an LED Desk Lamp" - lays out the facts in a head to head comparison. This article also includes cost savings calculation charts outlining total energy and cost savings for LED desk lamp ownership over the 25 year estimated life of an LED bulb.
These are just two in a new series of lighting "How To" articles that Lightology's lighting professionals are preparing for readers and lighting enthusiasts. During last month's focus on landscape lighting, Lightology's Jeff Wonsetler explored the basics of lighting your yard or outdoor area, as well as how to highlight trees and other features with landscape accent lights.
Stay tuned for more lighting education from Lightology's contemporary lighting experts, or contact Lightology directly to find answers to any specific lighting questions you may have.
About Lightology
Visit the Lightology showroom in Chicago or Lightology.com for all of your lighting questions and browse the largest online selection of modern lighting. With over 27 years experience in the lighting industry, Lightology's web site and 20,000 sq. foot contemporary showroom in Chicago offer you unmatched technical knowledge, accredited customer service, the highest quality and latest trends in contemporary lighting.
Along with the largest selection of contemporary lighting online, Lightology also offers:
Price Match Guarantee
Free Shipping on orders over $50
Hassle Free Returns
Free Assistance from Certified Lighting Consultants
Over 300 manufacturers, many exclusively available at Lightology
You can follow Lightology on Facebook, Pinterest, Twitter, Google+, Houzz, YouTube, and more.