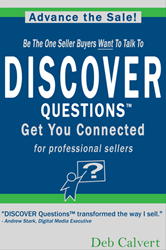 "...Honestly, this book makes SPIN Selling look like a primer." -Jill Konrath, author SNAP Selling and Selling to Big Companies
San Francisco, CA (PRWEB) August 28, 2013
Several top sales professionals strongly recommend "DISCOVER Questions™ Get You Connected." Brian Tracy, author of "Unlimited Sales Success" says, "This powerful, practical book, based on proven principles for sales success, shows you how to build high levels of trust and credibility from the first moment." Additionally, Jill Konrath, author of "SNAP Selling" and "Selling to Big Companies," has stated "...Deb Calvert's research shows, top sellers use a broader range of questions to create new opportunities and build strong relationships. Honestly, this book makes SPIN Selling look like a primer."
This new and innovative approach to selling is about learning to ask appropriate questions in order to advance the sale. After 20 years of research, Calvert has identified and simplified the eight types of questions all sales professionals must ask in order to create value and connect with their customers in new and more effective ways.
Pre-orders will be accepted through September 14. Pre-order this must-read and receive an autographed copy, a $2 discount off cover price, a People First Productivity Solutions tote bag and pen, an invitation to participate in the exclusive LinkedIn group for DISCOVER Questions™ users, a free copy of the white paper on how buyers have changed (a $9.99 value), a free DISCOVER Questions™ bookmark and free access to DISCOVER Questions webinars in November and December (a $49 value).