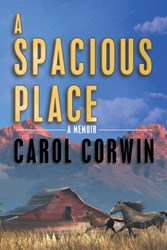 'Throughout my life I have faced many heartaches: my husbands alcoholism, death of a close family member and the loss of a treasured home,' says Corwin
Los Angeles, CA (PRWEB) August 28, 2013
According to Urban Institute research, more than half of the 1.4 million adults incarcerated are parents of minors. Realizing the meaning of this statistic, psychologist Carol Corwin, and her husband came up with an idea.
In her new book, A Spacious Place, the Corwin's story begins when they acquire a spacious ranch to minister adults in need and raise foster children along with their own family. With short stories that retell the touching and humorous incidents that arise from their original idea, the reader will see the importance of trusting God and the power of prayer.
With pieces of Corwin's own reality of life struggles, readers will receive a glimpse of the author's faith in God.
"Throughout my life I have faced many heartaches: my husbands alcoholism, death of a close family member and the loss of a treasured home," says Corwin. "However, amid the disappointment and grief, there has always been hope and prayer. My husband and I used these tools to strengthen us through our own trials and prayer led us to reach out to others who are caught in a web of despair."
Readers of all ages will laugh and cry as the family members come alive in this inspiring true story of changed lives.
A Spacious Place
By Carol Corwin
ISBN: 978-1-4497-8597-0
Pages: 510
Price: $44.95
Available at http://www.westbowpress.com, http://www.amazon.com, and http://www.barnesandnoble.com/.
About the author
Carol Corwin Carol is also the author of "The Prophet and the Pharaoh," a historical novel published in 2011. Her short story, "Senior Moments" was included in the recent book "Hot Chocolate for Seniors." Corwin is a clinical psychologist with a private practice in Claremont, California. She resides with her husband, Pete, in the city of Upland, Calif.