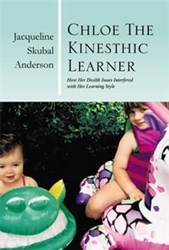 "I worked for years to help developmentally disabled clients, so the doctors always told me that I'm 'the right mom for the right kid'," said Anderson. "The truth is that every mom is the right mom for their kid. All it takes is persistence and love."
MIilwaukee, WI (PRWEB) August 28, 2013
Few things can be as hard on a parent as admitting your child might have a medical condition, yet nothing is worse than being unable to diagnose what the issue is.
In the book "Chloe the Kinesthic Learner", Jacqueline Skubal Anderson chronicles her efforts to diagnose and treat her child's mysterious dysfunction and learning issues. A condition Chloe was born with, it was often unclear whether issues were related to behavior, pain, or something else. Through perseverance in the face of numerous setbacks, Anderson helped her daughter identify and overcome her unknown disorders.
"My daughter Chloe was born with her condition and as a mother it was like taking two steps forward and one step back," said Anderson. "I wrote this book to help other parents who have children with educational, physical or mental issues."
Anderson worked with a team of doctors to diagnose Chloe's problems and determine a proper course of therapy. With their help, Chloe has been able to learn and grow properly.
"I worked for years to help developmentally disabled clients, so the doctors always told me that I'm 'the right mom for the right kid'," said Anderson. "The truth is that every mom is the right mom for their kid. All it takes is persistence and love."
Chloe the Kinesthic Learner
By Jacqueline Skubal Anderson
ISBN: 978-1-4836-3142-7
Retail price: $15.99
Available at ??????
About the Author
Jacqueline Skubal Anderson was born on May 9, 1953 and raised in a rural area twenty-five miles southeast of Green Bay, Wisconsin. Jacqueline attended the University of Wisconsin–Oshkosh and graduated in 1976 with a BS degree in psychology. She worked in human service jobs before marrying her husband in 1983. Then she became program manager of a group home, raised her two girls and stayed on the job until she became a full time mom in 2000.