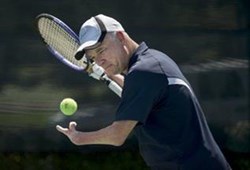 Challenges are inevitable; defeat is optional
Granite Bay, California (PRWEB) August 28, 2013
Speaker and author Roger Crawford has been selected as the winner of the 2013 ITA Achievement Award, presented by The International Tennis Hall of Fame and Rolex Watch USA. He will receive the award during the Sept. 6th 2013 International Tennis Hall of Fame Board of Directors Meeting and tennis legend Stan Smith will make the presentation. In addition, Roger will be honored at the International Tennis Hall of Fame Legends Banquet held during the U.S. Open.
Roger Crawford is a living example that all of us have the capacity to achieve great success, despite the obstacles. Although physically challenged, he was an award winning NCAA Division One college athlete and has been inducted into the Loyola Marymount Hall of Fame. Sports Illustrated has recognized Roger as "one of the most accomplished physically challenged athletes in the world."
His story was included in the original best-selling book, Chicken Soup for the Soul, and he was featured in the Emmy Award winning movie, In a New Light. Roger's autobiography, Playing from the Heart, has inspired people throughout the world.
After a successful college tennis career, Roger went from Center Court to Center Stage. Roger Crawford has been inducted into the National Speakers Association Hall of Fame in recognition of his highly successful speaking career spanning two decades. As a member of the Hall of Fame for People with Disabilities, he shares this prestigious distinction with fellow honorees such as Christopher Reeves, Helen Keller and Franklin Delano Roosevelt.
For more information about Roger Crawford, visit http://www.rogercrawford.com.