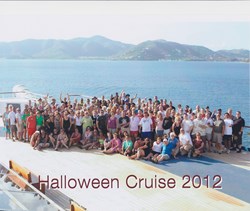 SinglesCruise.com is more than a travel agency for singles; it's a family.
(PRWEB) August 27, 2013
Hundreds of singles from across the country will get into the "Spirit" of Halloween this fall as they celebrate the much-loved holiday together on a Caribbean cruise. The festive group will set sail from Miami, Florida on October 26, 2013, and visit the tropical destinations of Half Moon Cay, St. Thomas, San Juan, and Grand Turk.
"SinglesCruise.com is more than a travel agency for singles; it's a family," said Roger Sipple, a long-time SinglesCruise.com client. "I have become friends with cruisers from all over the world and can't say enough about the hosts and Singles Cruise team. If I had not decided to go on a singles' cruise, I would never have had the opportunity to meet some of the nicest, friendliest and outgoing people. I particularly love the Halloween cruise because so many cruisers go out of their way with outrageous costumes. We have had a lot of great costumes over the years, along with fun new events and parties to attend each year. If you decide to go, you will have the time of your life, and will probably book your next singles cruise before you even get off the ship."
In addition to the highly awaited singles' costume party and contest, SinglesCruise.com is introducing their first-ever Spooky Singles Battle. The cruisers will be broken out into teams of up to six people and will compete in a variety of challenges throughout the week such as relay races, trivia games, a scavenger hunt and golf putting. Extra points will be given for enthusiastic team cheering and costumes – and the team with the most points will win prizes.
The SinglesCruise.com hosts are also leading a new Frightfully Flirty Girl Fitness class for the ladies – a cardio dance class that combines dance moves with strength and cardiovascular exercise. Other favorite events include Monster Mash Dance Lessons, Bewitching Walk-a-Mile, and a Trick or Treat Traffic Light Party (Red means stop, yellow - proceed with caution and green - go for it).
"Last year, we had over six hundred guests join our Halloween singles' cruise, and we are looking forward to seeing all the creative and elaborate costumes in store for us this year," says Shelby, SinglesCruise.com's lead cruise director. "Our private message groups we offer for booked guests are already buzzing with excitement of costume and cabin decoration ideas. The cruiser who won the contest last year came decked out in a very detailed 'Predator' ensemble that had us guessing all night as to who he was."
SinglesCruise.com offers hosted singles' cruises throughout the year to the Bahamas, Caribbean, Mexico, Hawaii, Europe, Alaska and more. For more information on the 2013 Halloween singles' cruise or for a complete list of upcoming 2013 or 2014 sailings with SinglesCruise.com, visit http://www.SinglesCruise.com or call 800-393-5000.