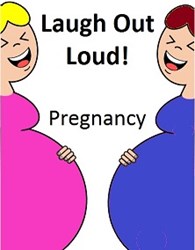 When I was pregnant, with my first child, I was not prepared the situations I sometimes found myself in. After experiencing some embarrassing mishaps because of my bump and hearing a few funny stories from other mothers to be, I wanted to hear more.
Wigan, Lancashire (PRWEB UK) 28 August 2013
In Laugh Out Loud! Pregnancy, (£2.95, Sharon Irish Publishing, July 2013), Author Sharon Irish brings together a wide range of real life experiences from pregnant women in the UK and the USA for others to share. This collection provides insight into what pregnancy is really like and how it is often perceived by the youngest family members.
This eBook brings together pregnant ladies' comedy moments for the enjoyment of other expectant mothers or anyone who has young children and can relate to pregnancy, along with the joys of being a mother-to-be. Pregnancy can be tough on body and mind and this eBook's aim is to provide a little entertainment during what can sometimes be a trying time.
Laugh Out Loud! Pregnancy is broken down into the following sections:

'Pregnancy/baby brain and hormones' - silly things said and done by pregnant women who are regularly controlled by their hormones.
'Pregnancy accidents and mishaps' caused by or related to the pregnancy 'bump.'
Eventful and amusing 'doctor's and midwives appointments.'
The misinformed and often misunderstood 'fathers to be.'
Comments made by young children ('pregnancy and young children'), some of these being made to their pregnant mothers, family members, or even complete strangers.
The experiences in the eBook highlight the difficulties of pregnancy, how women cope with both the physical and mental aspects and how others react, often with unexpected consequences. This eBook shows that kids really do say the funniest things as it includes extracts of real conversations held with young children who are trying to understand the concept of pregnancy and the impact the new baby will have on them.
Sharon Irish is a mother, has been through pregnancy herself and understands what it's like. She has had her own pregnancy mishaps and baby brain moments, some of which are included in this eBook. This is her first publication and is part of a series of real life moments, however she has been a keen fiction writer from an early age and hopes to publish her first novel in the next year.
Laugh Out Loud! Pregnancy (Sharon Irish Publishing, £2.95, 80 pages (estimated), eBook, ISBN: 978-0-9926375-0-7) is available at Amazon.co.uk. or Amazon.com For more information visit http://www.laughoutloud-ebooks.com.
# # #