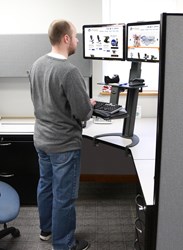 The Midwest Opportunity Fair is a great way to network with companies that are interested in providing a healthier and more productive way for their employees to work.
Minneapolis MN (PRWEB) August 28, 2013
Researchers have discovered a direct correlation between employee happiness, health levels and productivity. However, this awareness is not enough. Employers must equip workers with the right resources to allow them to work safer, avoid musculoskeletal disorders (MSDs) and work more efficiently. Health Postures LLC, designer and manufacturer of innovative sit stand ergonomic solutions, and Electronic Office Environments, an office and furniture supply company, are working to introduce employers to these resources.
The companies will share a booth at the 37th Annual Midwest Business Opportunity Fair. These health conscious companies' attendance at the fair precedes the launch of OSHA's national campaign to educate healthcare workers and administrators about ways to avoid musculoskeletal disorders (MSDs). During the campaign's announcement, MaryAnn Garrahan, a regional OSHA administrator shared that, "The best control for MSDs is an effective prevention program."
Premiere Health Postures and Electronic Office Environments products fair attendees will have a chance to try out firsthand include an adjustable Stance Move seat extension, the Stance Move ergonomic office chair, office filing systems, wrists supports and TaskMate Go dual monitor stands. Other health focused products Health Postures develops and distributes include the stress reducing Surface TaskMate (especially beneficial for industrial workers), industrial design tables and dual monitor arms, products built to support natural posture and reduce musculoskeletal pain.
Advantages that can be gained by employers and workers from using these products include fewer injuries, fewer worker's compensation claims, increased energy levels, less time missed from work and happier employees. People who will benefit from visiting the Health Postures and Electronic Office Environments booth include small business owners, healthcare facility officials, industrial manufacturers, corporate and military buyers and government agency managers.
When asked why Health Postures decided to share a booth with Electronic Office Environments, Scott McDonald, Health Postures' Sales and Marketing manager, shared that, "HealthPostures is a Minnesota company that is happy to be able to work with other companies in our region. The Midwest Opportunity Fair is a great way to network with companies that are interested in providing a healthier and more productive way for their employees to work."
Guest speaker at the Midwest Business Opportunity Fair is Dave Peter, president of the Minnesota Twins baseball club. The trade fair floor is scheduled to open on Thursday, September 19 at 9am. Prior to the opening reception, will be a feature workshop titled "Visibility to Vitality: Developing Supplier Diversity Champions through Internal Networks."
About Health Postures
Health Postures LLC (https://healthpostures.com), has been designing and manufacturing ergonomic sit stand solutions since 1996. Part of the company's mission is to "strive to provide quality products that will help transform your sedentary life so you have a healthy way to work." Office solutions sit stand products Health Postures designs and manufactures include dual monitor sit stand work stations, adjustable mouse stands, dual monitor arm accessories, Stance move seat extensions, industrial surface Taskmates and Stance Move chairs.
About Electronic Office Environments
Electronic Office Environments is an office supply store specializing in ergonomic chairs, office furniture, filing systems and wrist supports. The company also sells and distributes office and industrial equipment.
Contact:
Health Postures LLC
14310 Ewing Avenue South, Suite 100
Burnsville, MN 55306
800-277-1841
https://healthpostures.com
Electronic Office Environments
150 Eaton Street
Saint Paul, MN 55107
Phone 651-224-0344
http://www.mnergonomics.com/