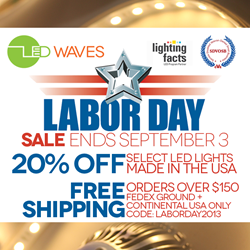 Each American-made LED light features name brand LED chips and a 5 year warranty.
Brooklyn, New York (PRWEB) August 27, 2013
Lighting supplier and manufacturer LED Waves is celebrating Labor Day with special offers on all week long. From Tuesday, August 26th through Tuesday, September 3rd, 2013 (the day after Labor Day), orders over $150 are eligible for free FedEx Ground shipping within the continental United States. In addition, select LED lights made in the USA are 20% off at LEDWaves.com.
The American-made products eligible for the 20% discount include non-dimming and dimmable LED ceiling recessed lights, four foot retrofit T8 tubes, and LED PAR replacements and 12 volt light bulbs. Each item features trusted name brand LED chips and a five year warranty.
These lights fit a wide range of applications (as retrofit and plug-and-play replacements), allowing residential and retail/commercial customers alike to take advantage of this Labor Day sale. As a supplier and a manufacturer, LED Waves serves the B2B market as well as selling directly to consumers through their lighting showroom and online store. Factory direct pricing by quantity is available year-round by calling 1(800)986-0169.
The staff of LED Waves will be out of the office for Labor Day weekend through Monday, September 2nd, and will return the following Tuesday. The national holiday is of particular significance to the Service Disabled Veteran Owned Small Business, which recently expanded its in-house Original Equipment Manufacturer (OEM) operations in Brooklyn, New York. LED Waves' exclusive line of American-made LED lights reflects the company's focus on the job creation needed to strengthen the nation's work force, as well as its standing in the global green tech industry.
The company's in-house R&D and LED OEM operations are making a remarkable difference in a trade that has long been dominated by competitors in China. By designing, assembling, and testing their lamps on-site in the USA, LED Waves is addressing both the quality control issues and the lengthy lead times associated with offshore manufacturing. Their full line of American-made LED lights is backed by an extendable five year warranty.