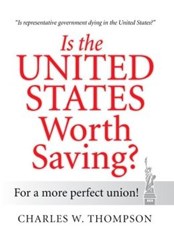 I was dismayed over the current political trends of the American government," says Thompson, a retired public official.
Los Angeles, CA (PRWEB) August 28, 2013
With 200 years of political corruption eroding the American Constitution, is it possible that America is no longer the country of its founding fathers?
Depicting the insidious threats to democracy, Charles W. Thompson showcases the ungovernable government of politicians haggling for power and control in, Is The United States Worth Saving?. Calling citizens back to America's founding principles for which its forefathers fought and died for, this "ordinary American" aims to form a more perfect union.
"I was dismayed over the current political trends of the American government," says Thompson, a retired public official. "I decided to compare and contrast current political practices with the intent of the original Constitution to showcase how stark the contrast has become."
Aiming to arouse and educate citizens, this social commentary exposes an erroneous variety of present day practices that threaten the Republic; from money controlling American representatives and rigged elections by gerrymandered districts to degraded public education systems and class-based societies.
Offering a new "Bill of Liberty" to regain public control of government and end special interest domination, Thompson proposes the restoration of America as a "Beacon of Liberty" for the world to see.
"This book's goal is dedicated to redeeming our chances to prove that people of all ethnicities and religions can live together and govern themselves," says Thompson. "Our government was founded on those principles, and we as citizens must unite under them."
Is the United States Worth Saving?
By Charles W. Thompson
ISBN: (SC) 978-1-4836-2482-2
Pages: 154
Price: $15.99
Available at http://www.xlibris.com, http://www.amazon.com, and http://www.barnesandnoble.com
About the author
Charles W. Thompson has spent a career in public management. He received an MPA degree from the University of Oklahoma where he was accepted to participate in an interdisciplinary program focused on public management and economics. During his 36-year career he served as Administrative Analyst in Kansas City, Mo. and as City Manager in Middletown, Ohio.; Springfield, Mo.; Wyoming, Mich.; Downey, Calif.; and Huntington Beach, Calif. He was also employed by Governor Hearns of Missouri to draft legislation and organizational framework for a Department of Urban Affairs. After retiring from city management, Thompson served in a consulting role in Egypt to improve public water and sanitation programs. He is now retired, living in Huntington Beach.