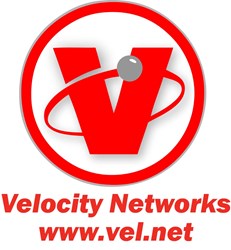 (PRWEB) August 31, 2013
Velocity Networks, a leader in providing business VoIP services, is pleased to be offering some of the best rates and services in the business VoIP industry and has recently redesigned their website. The Velocity Networks advantage is experienced in their offered savings, their multifaceted features, and their services and coverage areas which can now be found online.
Velocity Networks is best known for the benefits with which they are able to empower businesses. Benefits include reducing telephony costs by switching to a voice over internet protocol – known as VoIP – netting monthly savings of up to 80% depending on a business' use of telephony services. Other benefits include enhanced employee productivity, easy scalability as businesses grow, professional and premier reliability that businesses trust and depend on for their everyday success, and, of course, liberty of never having to deal with a traditional telephony company again!
The Velocity Networks business VoIP features include a single broadband connection for voice and data which reduces install costs, hardware, and software of businesses, and frees up work stations and spaces of endless cords and entangled wires. Velocity Networks also offers intuitive, web-based administration for easy-to-use and instant feedback and troubleshooting services in the unlikely event of an outage or emergency. Velocity Networks has multi-location transparency, offers phone number portability, and advanced call forwarding which are all standard features every business needs in their telephony services to answer the demands of their clientele.
Other reasons to choose Velocity Networks include their complete assessment of your particular network needs. This is performed to identify any potential problems and immediately offer solutions to overcome them to provide the best business VoIP telephony services possible. Velocity Networks uses business VoIP grade broadband which protects your business VoIP traffic from the public, keeping it secure. Of course, providing business VoIP also means that Velocity Networks is able to supply both telephony and broadband services - combining and bundling both services into one convenient company. Velocity Networks offers flat rate local and long distance calling, free calls between offices, PBX with web portal, low cost international rates, and nationwide coverage. Switching to Velocity Networks is easy and companies are even able to retain their current telephone numbers and use their existing hardware.