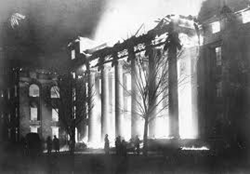 When Disaster strikes...Strike Back!
Baltimore, MD (PRWEB) August 28, 2013
A campus is a good setting to obtain information and knowledge of what to do in a fire. In campus-related fires, smoking is one of the most common factors in fatal fires, which can cause millions of dollars in direct property damage, injuries and fatalities.
There are a number of risk that can start a fire. Do not leave cigarettes, cigars or pipes unattended; they can fall over as they burn down. Do not leave a stove, oven and grill on, a spark can ignite and start a fire. Do not smoke in bed, always put out candles when leaving a room or going to bed and take trash out away from the house; people sometimes dump cigarettes in trash cans and this is risk for a fire.
When consuming alcohol fire risk is higher; people tend to have a deeper sleep which fire, smoke and alarms may not wake a person.
ServiceMaster by Singer is a full service restoration company serving the Baltimore Washington Metropolitan areas for over a decade. We are a leading restoration company providing Water Mitigation, Fire Damage Restoration, Mold Remediation, Complete Construction Services, Storm Damage Restoration, Crime – Trauma Cleaning, Hoarder Cleaning, and Residential and Commercial Cleaning Services. Call for more info: 855-5-Singer.