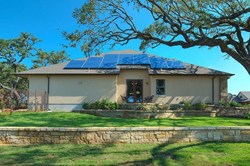 "As the only production builder in the San Antonio area to follow LEED-certified mandates, our collaboration with SolarCity dovetails nicely with our goal to build a home that leaves a minimal footprint on the environment."
San Antonio, TX (PRWEB) August 26, 2013
Wilshire Homes is expanding its green building practices by partnering with SolarCity (Nasdaq: SCTY), a leading provider of clean energy, to offer solar panels for its range of LEED-certified homes in downtown Boerne's Woodside Village, giving homebuyers an easy way to make the switch to clean, renewable energy for their homes and help them save money on their electric bills.
The builder is celebrating the opening of its Woodside Village model home at 199 Autumn Ridge in traditional Texas manner, with a barbecue 11:30 a.m. to 1:30 p.m. Wednesday, Aug. 28.
Boerne Mayor Mike Shultz will speak at the event, as will Pam Losefsky with the U.S. Green Building Council, which oversees the LEED for Homes certification program. Members of the Boerne Chamber of Commerce also will be on hand for a ribbon-cutting. In addition to enjoying barbecue by Fritze's, event-goers can register to win an iPad Mini. The public is invited.
"As the only production builder in the San Antonio area to follow LEED-certified mandates, our collaboration with SolarCity dovetails nicely with our goal to build a home that leaves a minimal footprint on the environment," said Ken Gezella, division sales manager for Wilshire Homes in San Antonio.
Homebuyers can choose between a 2, 4, or 6 kilowatt (kW) solar system for their new homes. The savings from solar at Woodside Village are estimated to range for more than $300 a year for a basic 2 kW system to more than $945 a year with a 6 kW system. SolarCity will custom design and install each solar system at Woodside before the homebuyer moves into their new home. SolarCity also offers real-time monitoring and a personalized MySolarCity web portal to homebuyers to view their electricity consumption and their solar system energy production online.
Wilshire Homes offers homes from the $280,000s in Woodside Village, an intimate enclave of new homes within walking distance of popular downtown shops and restaurants and directly alongside the Old No. 9 Trail, a 1.4-mile scenic walk that originated as a narrow Native American pathway and was once part of the main wagon trail between Boerne and San Antonio. Every home in the community will carry the LEED certification, signifying it is a high-performing green home that uses less energy and water and fewer natural resources. Wilshire has an average HERS index rating of 65, which equates to an estimated monthly heating and cooling cost of approximately $110.
"Not only are our homes up to 30 percent more energy-efficient than equivalent, non-LEED-certified homes, but each is verified through a third-party inspection," Gezella said.
For more information on Wilshire Homes, visit http://www.wilshire-homes.com.
Photo Information
Wilshire Homes has announced a joint venture with SolarCity to offer solar panel systems for its homes in Woodside Village, a new community in downtown Boerne. The public is invited to attend the grand opening of Wilshire Homes' first LEED-certified model home, located at 199 Autumn Ridge, 11:30 a.m. to 1:30 p.m. Aug. 28. Fritze's is catering a barbecue lunch and attendees can enter to win an iPad Mini.
About McGuyer Homebuilders, Inc.
Since its inception in 1988, McGuyer Homebuilders has continued to exceed customers' expectations through quality service, construction, and value. McGuyer Homebuilders offers its award-winning designs under its signature brands – Wilshire Homes, Plantation Homes and Coventry Homes in five markets across Texas. McGuyer Homebuilders builds thousands of homes annually and is honored as one of the top 30 homebuilding firms in the nation. For more information, visit http://www.mcguyerhomebuilders.com.
About SolarCity
SolarCity® (NASDAQ: SCTY) provides clean energy. The company has disrupted the century-old energy industry by providing renewable electricity directly to homeowners, businesses and government organizations for less than they spend on utility bills. SolarCity gives customers control of their energy costs to protect them from rising rates. The company offers solar power, energy efficiency and electric vehicle services, and makes clean energy easy by taking care of everything from design and permitting to monitoring and maintenance. SolarCity currently serves 14 states and signs a new customer every five minutes. Visit the company online at http://www.solarcity.com and follow the company on Facebook & Twitter.
This release contains forward-looking statements including, but not limited to, statements regarding future deployments, future hiring and future environmental and economic impacts of SolarCity projects. Forward-looking statements should not be read as a guarantee of future performance or results, and will not necessarily be accurate indications of the times at, or by, which such performance or results will be achieved, if at all. Forward-looking statements are subject to risks and uncertainties that could cause actual performance or results to differ materially from those expressed in or suggested by the forward looking statements. You should read the section entitled "Risk Factors" in our annual report on Form 10-K, which has been filed with the Securities and Exchange Commission, which identifies certain of these and additional risks and uncertainties. We do not undertake any obligation to publicly update or revise any forward-looking statement, whether as a result of new information, future developments or otherwise.