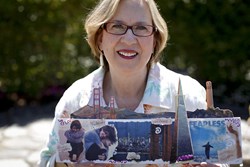 (PRWEB) August 27, 2013
Maggie Oman Shannon, author of the new book Crafting Calm: Projects and Practices for Creativity and Contemplation, published by Viva Editions, was recently interviewed by Portland Book Review about her motivation behind writing the book about her favorite crafts for spirituality.
When asked what gave her the idea to write Crafting Calm, she said, "I realized that many of the crafting/creative activities I had naturally been drawn to were in fact being used by me as a form of spiritual reflection or practice, and so I continued to explore, expand, and add to them… Crafting Calm came out of a desire to share these passions with others and let them know how helpful they'd been in my life."
She also explains how crafting is very beneficial for kids as well. "Developmental psychologists report that simple crafts and handmade projects provide both short- and long-term benefits to a child's emotional, social, spiritual, and cognitive development. In addition to that, it provides such a lovely way to be with your child…to understand more about their natural impulses, and to appreciate their unique creative sense. If one has been socialized to not think of oneself as creative—and sadly, that's true for most adults—being with a child while crafting can help us to remember that freedom and joy that we once had when creating and inspire us to do it again."
Maggie leads workshops on crafting as a spiritual practice as the Spiritual Director of a Unity Church in San Francisco. She will also be appearing on the Unity Forth Worth Radio with Rev. Paul John Roach on September 24th, on On Purpose Radio on October 3rd, on HealthyLife.net Radio on October 8th, and onLife Mastery Radio on October 15th.
Join her at A Great Good Place for Books, in Oakland, CA on November 1st at 7pm for a reading and project from the book.
Crafting Calm
Projects and Practices for Creativity and Contemplation
By Maggie Oman Shannon
Maggie Oman Shannon's Crafting Calm is a DIY guide to peace of mind, offering an abundance of ways you can achieve serenity and satisfaction by living the handmade life. Author Oman Shannon, the spiritual director of a Unity Church, explores crafts and creativity as a lifelong practice with enormous physical, emotional and spiritual benefits. And by knitting love and hope into every stitch, handicrafts help form new friendships and community. From making a desktop shrine or mini-Zen garden, to stringing intention beads and painting personal prayer flags, Crafting Calm is an essential tool for making mindfulness.
Rev. Maggie Oman Shannon is an interfaith minister, spiritual director, workshop and retreat facilitator, and lifelong crafter whose passion is exploring the relationship between creativity and spirituality. A former magazine editor and creativity coach, she is the author of five previous books, including Prayers for Healing. Oman Shannon lives in San Francisco with her husband and young daughter (who also loves to craft.) She currently serves as Spiritual Director of Unity Spiritual Center of San Francisco.