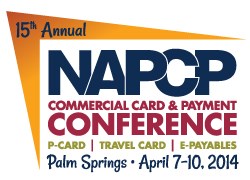 Join the complimentary webinar on September 12 to learn more about the Call for Presenters opportunity.
Minnetonka, MN (PRWEB) August 27, 2013
The NAPCP announces the opening of its Call for Presenters for the 15th Annual Commercial Card and Payment Conference to be held at the Renaissance Esmeralda Resort, Palm Springs, California, April 7-10, 2014. Details—including an overview of the conference, sample speaking topics and an online proposal submission form—are available now at http://www.napcp.org/speakers. Proposals must be submitted by September 30 for conference consideration. In addition, a complimentary webinar to discuss the NAPCP Call for Presenters process, preferred topics and more is scheduled for September 12, 2013.
The NAPCP is seeking speaking proposals for topics that will appeal to individuals from all experience levels and industry sectors, including Corporate, Government and Higher Education. Conference attendees are made up of (1) end-user "practitioners" who administer Commercial Card and Travel Card programs and (2) industry providers (issuers, networks, acquirers, consultants, software providers) who develop and support technology and solutions in the electronic payments arena.
Suggested speaking topics include best practices for managing fraud, controls and audit; global payments; legal and regulatory issues; program expansion; provider relations; merchant services; emerging payment technologies and more. Each year, attendees also look forward to presentations from experts that address industry trends and benchmarking. Please see the list of session topics at http://www.napcp.org/Speakers.
The conference offers a variety of educational formats that appeal to every learning style: formal classroom-style presentations with Q&A; hot topic discussions for an open exchange of ideas; product and technology demonstrations from leading providers; and more intimate roundtable discussion sessions. The speaker selection process includes proposal review, telephone interview and discussion of key takeaways for the presentation topic. Approved speakers will receive a complimentary conference registration pass and credit toward the Certified Purchasing Card Professional (CPCP) credential (http://www.napcp.org/cpcp).
For more information, please contact Adriana Pulkrabek, NAPCP Manager of Content Services, at Adriana_Pulkrabek(at)napcp(dot)org or telephone (952) 546-1880 ext. 6.
About the NAPCP
NAPCP (http://www.napcp.org) is a membership-based professional association committed to advancing Commercial Card and Payment professionals and industry practices worldwide. The NAPCP is a respected voice in the industry, serving as an impartial resource for more than 13,000 members and subscribers at all experience levels in the public and private sectors. The NAPCP provides unmatched opportunities for continuing education and peer networking through its conferences, Regional Forums, webinars, website, virtual demonstrations, newsletters and regular communication. The association sponsors research and publishes timely and relevant white papers, survey results and other documents. The NAPCP offers a Certified Purchasing Card Professional (CPCP) credential. Visit http://www.napcp.org to learn more about Commercial Card and payment programs in general, the value of membership, current member demographics, upcoming events and benefits of becoming a year-round partner sponsor.