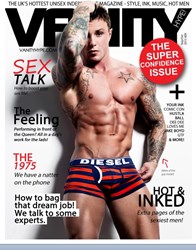 Jersey City, NJ (PRWEB) August 28, 2013
Alex Michael Turner, a fitness model who is sponsored by Beyond Genetics Supplements, has landed the cover of the September issue of Vanity Hype magazine, the United Kingdom's top lifestyle, music and tattoo magazine. This is the most recent in the string of successes for the aesthetic model.
This is the Boise-native's first magazine cover, but he can be seen on the front of two romance novels penned by M.J. Carnal -- "Taming the Bachelor" and "Taming the Playboy," -- and was recognized by Kathy Griffin for his "pure sexiness." Alex says he gets his drive to succeed from his desire to prove doubters wrong.
"I'm so honored that the editors at Vanity Hype chose to put me on their cover. Seeing myself on the front of a magazine is something that I have dreamed of. There were always people telling me that I was shooting too high or that I wasn't magazine material, but I used their words as motivation and look how far it's gotten me."
Chief Executive Officer Arvin Lal always saw this potential in Turner.
"It's amazing to see Alex land this cover," Lal said. The guy works so hard at his craft and he is just starting to do the things that he and I know he is capable of. It takes an exceptional body and an unprecedented work-ethic to have success in competition and in the modeling industry with tattoo sleeves. But, the industry will quickly see that Alex Michael Turner is just getting started."
Turner, as a part of Beyond Genetics Supplements' premier booth space, will have meet-and-greet sessions at the 2013 Olympia Expo at the Las Vegas Convention Center on September 27th and 28th in Las Vegas. There, Alex and company will have surprises in store for the biggest convention of the bodybuilding and fitness industry.
Follow Alex Michael Turner on Instagram, Twitter and Facebook.
Beyond Genetics Supplements, the fastest growing name in the health and fitness industry, was founded in 2011 and is headquartered in Jersey City, N.J. The company is led by co-founder and Chief Executive Officer Arvin Lal. Beyond Genetics Supplements offers maximum strength nutraceuticals, including its flagship product, SHREDZ Maximum Strength Fat Burner. The entire product line is manufactured and warehoused in the United States and distributed throughout more than 40 countries. For more information, visit http://www.BreakingPastGenetics.com.