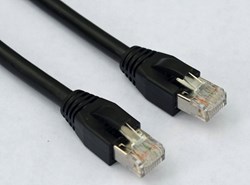 With 3 to 300' lengths and such high quality and ready made outdoor patch cables we can now get our equipment up and running faster without the mess saving dollars along the way.
Aurora, Illinois (PRWEB) August 27, 2013
AIR802 is pleased to announce immediate availability and shipping of the industries highest quality outdoor CAT5e shielded (FTP and gel-filled patch cords from 3 feet to 300 feet. Particularly with gel-filled cable, it is time consuming and messy to add connectors in the field. These pre-made cables can be ordered, shipped the same day and easily and quickly installed saving time and dollars.
Each patch cable is filled with a DuPont gel or grease to prevent water penetration and damages to either the cable or from water passing through the cable to the equipment connected at either end. Each cable is constructed with AIR802 CA5E-FTP premium cable, with 3 dB of head room in NEXT and Return Loss over the TIA/EIA 568-B.2 standard requirements. This cable can be used in Ethernet networking applications for 10/100 or 1 Gigabit (1000 Mbps) requirements. This professional high quality patch cord was developed by AIR802 engineers and is manufactured in our Aurora, Illinois plant.
The jacket is built with polyethylene which withstands UV sun rays and holds up well against contaminants such as oil, gas and abrasions. It is suitable for use in extreme heat or cold weather conditions. This cable can be used on rooftops, along walls or buried underground. Each conductor is solid 24 AWG copper. The shield is an aluminum overall foil with a drain wire which is bonded to the shielded connectors. A rubber boot is added for protection with each connector.
Finally a fast easy solution is available to folks needing to deploy quality networking cables outdoors with ready-made cables. Click here for lengths, prices and ordering.
About AIR802
AIR802 was established in 2005, manufactures wired and wireless networking equipment and products with a focus on antennas, cable, connectors and power-over-Ethernet (PoE) products. AIR802 is known for strong ethics, quality products, innovative engineering and rapid same-day shipping services.