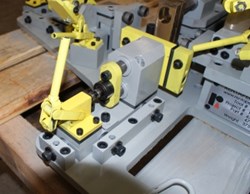 We realized we could do it cheaper.
Milwaukee, WI (PRWEB) August 28, 2013
Rentapen Inc. began laser cutting steel shims for the weld tooling industry in 2004. In 2013, Rentapen has seen a rise in the sales of shims used by the die-stamping industry.
A stamping die is a tool used in manufacturing to cut or shape material using a press. Like a mold, stamping dies are usually custom built for the specific product they are used to cut or manufacture. Products using dies are as diverse as a car fender to a simple paper clip.
Over time stamping and punching dies begin to wear and need to be "sharpened". The sharpening process removes a small amount of material off the face of the die. Rentapen's steel shims are placed behind the die so that the face of the die stays in exactly the same place. These shims are called, "Die-Sharpening Shims".
Quality manufacturers and stampers keep the dies consistent through regular maintenance that includes sharpening and shimming. This periodic maintenance helps consistency in the manufacturing process as demanded by manufacturer's customers.
"We found that it was costing our customer a lot of production time to cut the shims themselves with their own equipment. Those that make dies have a ability to cut metal, but Rentapen can do it so much more efficiently," said Susan Straley, President of Rentapen.
It makes sense, that is what Rentapen staff do, day in and day out. A couple of Rentapen's employees already were working on creating CAD drawings for custom shim shapes used for weld fixtures. A custom program has been developed by Rentapen to help them process their shim orders from quote to laser cut files to packing list and invoice. It made sense to easily transfer the skill and efficiencies to die-sharpening shims.
"One of our distributors, E.L. Simeth, realized quickly by talking to their customers that there was a need that we could fill. And we realized we could do it cheaper." Said Straley.
To provide their customers with the best price, Rentapen makes each shim when it is ordered. Keeping finished goods inventory costs low and passing on the savings to Rentapen's customers.
Rentapen Inc., Weld Fixture Specialists is home of RAPid Tooling Components™ used in weld fixture design and build. Rentapen Inc, located in Waukesha, WI, has been providing machine tool design services to manufactures since 1976. Rentapen is a Wisconsin Certified Woman Owned Business and home of RAPid Tooling Components™.