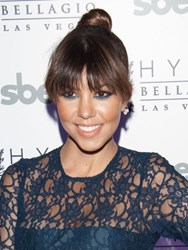 (PRWEB) August 27, 2013
Bangs are one of those special hair styles that never really go out of style. They have various periods where they peak in popularity but are still always considered "in style". Currently bangs are reaching their peak and everyone from Lea Michele to Emma Stone is rocking them. TheBeautyPlace.com is debuting how to get "The Look" Celebrity Bangs issue.
With these amazing celebrities guidance everyone can finally add some texture into their played out hair styles. The first Bangs style worthy of imitating is the "Blunt Bang" similar to that of, Zoe Kravitz. This look is a bold take on bangs but looks fabulous if done right. This is most recommended for women with straight to medium textured hair. This cut is probably the most high-maintenance bang it entails a trim every two weeks. To style this, blow-dry hair straight down using a brush then add a strong hold hairspray, like Sexy Hair Spray & Play Harder Firm Hairspray to keep bangs in place.
The next look worth copying is the "The Piece-y Bang" similar to style icon Zooey Deschanel's look. "The Piece-y Bang" is a version of the blunt bang but with added fragments in order to soften it up and create a lighter weight line on the ends. This particular bang is easier to maintain and style because of its light weight and separated texture. These bangs are wearable to the side and straight forward. This hairstyle is ideal from women with very thin hair because it gives the illusion of added volume. In order to style this look use a small brush while blow drying bangs in different directions. Then add a smoothing serum like Sexy Hair Big Shine for extra shine and to tame any flyaways.
The "Side-Swept Bang", worn brilliantly by Emma Stone is definitely worth emulating. This style is the most mainstream and because it's so easy to wear its extremely popular. The length of the bang allows for a lot of flexibility, being that it's wearable in pretty much any way imaginable. It can be worn to a casual outing like the gym or spiced up for a night on the town. This style looks best with wavy hair but can pretty much work with any hairstyle. In order to style these bangs best, blow dry hair with a large round brush which creates a swoop and then spray it with an extra hold firm hairspray like Sexy Hair Spray & Stay Intense Hold Hairspray to keep them in place.
There are many reasons to change up hairstyles whether it is boredom, curiosity, or craving adventure bangs are the perfect cure.