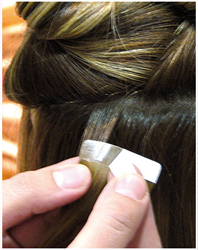 Keene, NH (PRWEB) August 29, 2013
Tape-in hair extensions are the newest product sold by Vision Hair Extensions.
Lynn Symonds, owner of Vision Hair Extensions, says, "We love the way hair extensions thicken up thin hair but the usual hair extension methods can be damaging to delicate hair. Tape-in extensions are friendly to thin hair, a great alternative."
Tape-in hair extensions, also called sticker hair extensions, sandwich the hair in between two keratin adhesive tapes which is much gentler for baby fine hair and the tapes are wide enough so the stringy look, so often seen in other methods, doesn't happen. The tapes lay very flat so they are easy to hide under fine hair.
Tape-in extensions last approximately 3-6 weeks and can be reused.