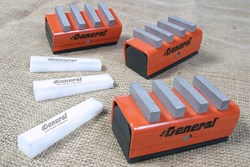 The 30- to 40-grit DIAM-A-TACH diamond segments include Omnitrix™ single-matrix formulation, which gives them a wider variety of uses.
Owatonna, MN (PRWEB) August 27, 2013
General Equipment Company offers the DIAM-A-TACH® SG24-2300 series diamond segment abrasive system for use with popular models of low-speed surface grinders. Designed for a multitude of applications, the attachments feature the largest rectangular diamond segments in their class, yet are offered at a low price point.
The 30- to 40-grit diamond segments include Omnitrix™single-matrix formulation, which gives them a wider variety of uses than similar competitive products. Able to be operated wet or dry, the segments are ideal for removing thin layers of materials, such as adhesives, epoxies, urethanes, paints and concrete without clogging. Standard service life is up to 50,000 square feet, which is 15-times longer than typical carbide grinding stones.
Other standard features include extra-thick segments and directional markings, which aid in proper installation. In addition to the SG24-2300 series, General Equipment Company also offers the SG24-2100 series, which comes with round segment pins, rather than rectangular segments.
In business for more than 50 years, General Equipment Company is a family-owned manufacturer of earth augers, ventilation blowers, asphalt cutters and surface preparation equipment. For more information, contact General Equipment Co., 620 Alexander Drive S.W., Owatonna, MN 55060, call 507-451-5510 or 800-533-0524, fax 507-451-5511 or 877-344-4375, or visit the website at http://www.generalequip.com.