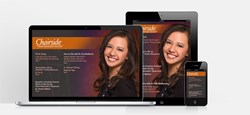 Chairside magazine strives to provoke new ways of thinking and help restorative dentists take their techniques and knowledge to the next level."
Newport Beach, CA (PRWEB) August 27, 2013
Glidewell Laboratories, industry-leading provider of dental laboratory products and services, announced today that the new issue of Chairside® magazine, its restorative dentistry-focused publication, is now available in print and online. The digital edition of the latest issue, Volume 8, Issue 2, as well as past issues of the dental laboratory's quarterly magazine, can be viewed from all popular desktop, tablet and smartphone platforms by visiting http://www.chairsidemagazine.com.
In the featured one-on-one interview, Editor-in-Chief and Clinical Editor Dr. Michael DiTolla talks with Dr. Roy Shelburne, a Virginia-based dentist whose practice was running smoothly until an FBI investigation, jury trial and subsequent 19-month stint in prison significantly altered the course of his career. Read about this experienced practitioner who is eager to share with other dentists the critical role proper recordkeeping plays in protecting themselves and their practice.
Also featured in the issue is an informative photo essay in which Dr. DiTolla presents a post-and-core technique with BioTemps® Provisionals for a 4-unit bridge case. Read the article, view the case photos and watch the video of Dr. DiTolla performing the case to discover the benefits of using fiber posts, a prep stent and the two-cord impression technique in this type of case.
Additionally, the issue includes Dr. DiTolla's reviews of new dental products and several articles from leading clinicians, including a photo essay featuring an Obsidian™ smile makeover, a prosthetically driven case report on the full-mouth rehabilitation of a patient with advanced periodontal disease, a discussion of the benefits of using acellular dermal matrices during perio-restorative treatment, and a systematic approach to esthetic and functional restoration of severely worn dentition. Plus, in the recurring "Chairside Live" column, Dr. DiTolla presents a recent Case of the Week from the lab's weekly Web series that focuses on a technique for fixing a flawed path of insertion for a BruxZir® bridge.
Glidewell Laboratories launched "Chairside Live" in May 2012 as a multimedia supplement to Chairside magazine. The weekly Web video series gives dentists an insider's look at some of the unique and interesting cases processed at the lab, while keeping them informed of the latest dental news. Current and past episodes of "Chairside Live" can be viewed at http://www.chairsidelive.com.
Chairside magazine is published by Glidewell Laboratories and company president/CEO Jim Glidewell, CDT. With each issue, Chairside strives to provoke new ways of thinking and help restorative dentists take their techniques and knowledge to the next level. Featuring clinical tips and techniques, case studies, practice management advice, product reviews and one-on-one Q&A interviews with prominent dental experts, Chairside guides practitioners through the challenging and rewarding tasks the dental profession has to offer.
For anywhere, anytime access to the Chairside magazine digital edition and exclusive online content including case videos, clinical case photos, archived articles and CE tests, visit http://www.chairsidemagazine.com. For more information about Chairside magazine, call 888-303-4221 or e-mail chairsidemagazine(at)glidewelldental(dot)com.