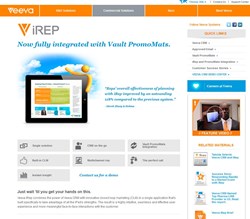 We're Interested in blending utility with creativity. By enhancing existing presentation capabilities with interactive elements... we can develop engaging mobile experiences that can be tracked and measured.
- Peter Lyons, SVP, D2 Creative
Somerset, NJ (PRWEB) August 27, 2013
Independent digital agency, D2 Creative, has partnered with Veeva Systems, a leading provider of cloud solutions for the life sciences industry. For D2 Creative, the partnership provides sandbox access to the Veeva framework being adopted by many of its clients.
With more and more sales forces using Veeva customer relationship management (CRM) and closed-loop marketing (CLM) products on their iPads, the need for truly interactive and engaging mobile apps was clear to D2 Creative.
"We're interested in blending utility with creativity. By enhancing existing presentation capabilities with interactive elements such as videos, simulations and animations, we can develop engaging mobile experiences that can be tracked and measured." – Peter Lyons, SVP, Creative and Technical Services, D2 Creative
With access to the Veeva Sandbox, D2 Creative's developers are building and testing innovative marketing solutions that meet Veeva's system requirements while satisfying the standards of the agency's creative leads and those of their clients.
D2 Creative (http://www.d2creative.com) is an independent digital agency that helps organizations increase reach, influence, and effectiveness through creative digital solutions.
If you would like more information about this topic or D2 Creative in general, please contact Carrie Plantamura at the information provided.