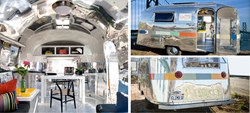 The film crawl provides a unique opportunity for Climb Real Estate agents to reach potential clients in a way that would be impossible for a traditional office.
San Francisco, CA (PRWEB) August 27, 2013
Climb Real Estate Group's new Airstream mobile office will make its first public appearance at The Tenth Annual Bernal Heights Outdoor Cinema presents: Film Crawl on Cortland Avenue. The film crawl will take place on Cortland Avenue between Bennington Street and Anderson Street on Friday, August 30, and the Airstream will be parked on Cortland serving up coffee, movie snacks, and free real estate advice starting at 6:00 pm.
Danielle Lazier, Sales Director at Climb Real Estate Group, said, "As a long-time resident of Bernal Heights, I'm pleased to be involved in this community event. I'm also happy that many of my colleagues will be in attendance."
Six venues on Cortland Avenue will be showing short film screenings throughout the evening, encouraging the audience to walk between locations over the course of the event. The film crawl provides a unique opportunity for Climb Real Estate agents to reach potential clients in a way that would be impossible for a traditional office.
Climb agents Melody Hultgren, Gabriel Rojas, Paul Andreini, and Sasha Lupercio will also be on hand at the Airstream to pass out complimentary popcorn and candy. Even Bernal resident and Climb Office Manager Kimberly Pape will drop by to enjoy the festivities.
This innovative mobile retail store was designed by San Francisco-based Design Within Reach, a retailer of well-designed furnishings and accessories, and Stacey Lim of Stacey Lim Designs. The special edition Design Within Reach travel trailer sports all the aluminum goodness of the iconic Airstream, with added elements that reflect the youthful and innovative Climb brand, including a clock by Nelson Ball and a coat rack by British designer Tom Dixon. There's never been a more stylish mobile real estate office. At 120 square feet, it is one of the smallest real estate storefronts to date, which allows it to be placed in a variety of locations to allow consumers to interact with Climb Real Estate agents and appeal to a wide range of customers. Look for the Climb Airstream at agent open houses, new development openings, community events, and street fairs. Climb Real Estate Group's sleek stainless steel trailer is moving throughout the city of San Francisco.
This is the second iteration of Climb's Airstream mobile store, after the success of their first 90-day pilot program in Winter 2012. The new DWR Airstream is even more compact and features additional high-tech features including free wireless internet, a high-quality sound system and flat-screen TV, a Simplicit stand with an iPad kiosk, and the Open Home Pro application for lead capture. You can get updates on the Airstream's location by following @climbairstream on Twitter.
About Climb Real Estate Group:
Climb Real Estate Group is a full-service general real estate brokerage with an emphasis on the purchase, sale, rental and marketing of select residential new developments, commercial and premier resale properties. They specialize in condos, high rises, lofts and homes in South Beach, SOMA, South Beach, Mission Bay, Rincon Hill, Potrero Hill and Central Waterfront. Our focus is on urban-style properties, specializing in new construction, historic loft conversions, live/work spaces, Victorian flats, modern condominiums, and stylish single-family homes. They also have exclusive access to off-market listings, foreclosures and developer specials.
(Photo is of previous Airstream.)